Is Sri Lanka's Rajapaksa making a comeback?
Posted by Editor on July 15, 2015 - 10:30 am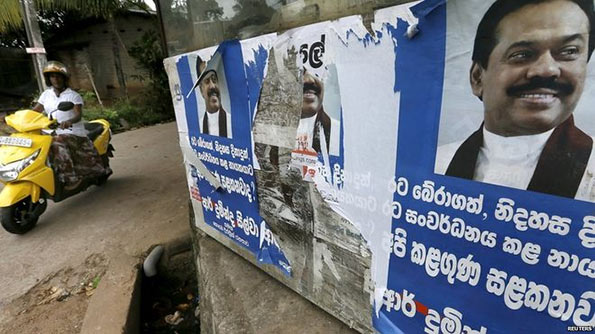 Sri Lanka's former President Mahinda Rajapaksa will stand in parliamentary elections on 17 August as a candidate for the governing coalition, the Election Commission confirmed this week.
His successor as president, Maithripala Sirisena, leads the ruling party, but failed to prevent his rival standing as one of its candidates. BBC Sinhala's Azzam Ameen looks at what is going on.
Who's in charge of the ruling party?
The move to allow Mr Rajapaksa to stand for the UPFA coalition has angered millions of voters and activists who supported Mr Sirisena in his shock victory in January.
Mr Sirisena took over the leadership of the governing SLFP and the UPFA coalition it heads after winning the 8 January vote.
But he has now succumbed to pressure from his own party to grant Mr Rajapaksa the nomination to run for election.
Since becoming president, Mr Sirisena has struggled to consolidate his position within the party which is filled with politicians still loyal to Mr Rajapaksa who want to bring him back to power.
He has declined to name his rival as the party's prime ministerial hopeful, but Rajapaksa loyalists are confident their man can lay claim to the position if he and his supporters win by big margins in the polls.
Rajapaksa has a safe constituency, right?
He does – in Hambantota, his power base in the south. But he's not standing there this time. The former president will run in Kurunegala, Sri Lanka's third largest electoral district, in the north-west.
It has a population of 1.6 million, while Hambantota is a much smaller district with a smaller population.
To stake a claim for the premiership, Mr Rajapaksa must win votes in large numbers. Hambantota district will not give him those numbers. Kurunegala has many army families too, which could help him.
Has Sirisena sold out?
Creating space for a political comeback by Mr Rajapaksa has irked many who voted for Mr Sirisena in January. They have called the move a "betrayal" of the mandate he obtained to defeat a man many saw as increasingly autocratic.
"He betrayed us, we never expected him to join Rajapaksa and bring back the corrupt Rajapaksa regime we defeated," civil activist Saman Rathnapriya told BBC Sinhala.
"6.2 million people voted against Rajapaksa – not for Sirisena as a person. He has destroyed all our hopes," an angry Rathnapriya said after talks aimed at denying Mr Rajapaksa the party nomination failed last week.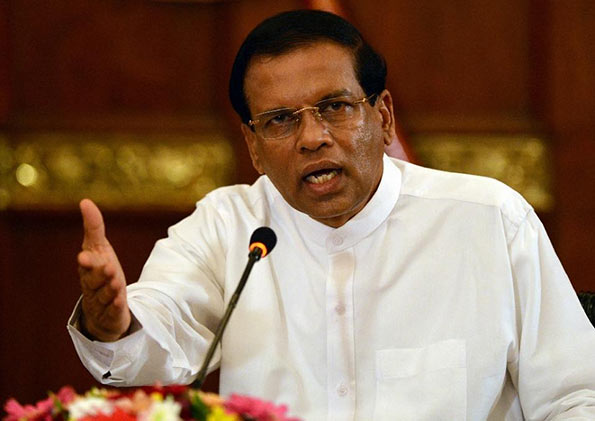 President Sirisena had promised not to betray the silent revolution of 8 January or to permit the restoration of one-family rule in Sri Lanka.
But after a week's silence, he addressed the nation on 14 July, predicting his rival would lose in August.
"Mahinda Rajapaksa who was defeated on 8 January will be defeated again," President Sirisena said. "I don't need to read the stars to know that, the future can be predicted based on history."
He appeared wounded by the public outrage he has faced.
"No other president has been attacked the way I have in the past two weeks – they called me a traitor and a brute. Today you are tasting the fruits of democracy," Mr Sirisena told reporters.
Who's going to win the election?
Mahinda Rajapaksa is still popular among the majority Sinhalese, many of whom remember he was in charge when the army defeated Tamil separatists to end years of bloody civil war.
The UNP party, whose leader is currently prime minister, will have a hard fight on its hands.
If Mr Rajapaksa wins by a large margin in his district and the UPFA wins the island-wide vote, the president could be forced to name him prime minister.
That would mean an uneasy cohabitation with the man who unseated him.
But others question whether Mr Rajapaksa will have the numbers to become PM and see the election as a doomed attempt to regain power.
Defeat could see him humiliated on the opposition benches, playing little more than a spoiler role.
A win, however, could see the so-called silent revolution of 8 January come to an end.
(Source: BBC)
Latest Headlines in Sri Lanka