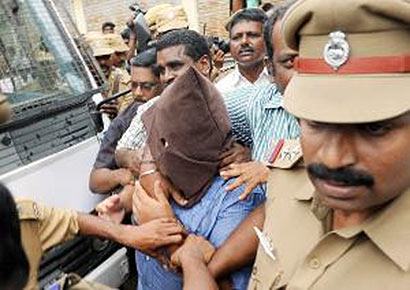 A Sri Lankan national, Sakir Hussain, the suspected ISI agent arrested in the city on April 29 had been tailing US consulate officials and looking for unoccupied buildings in the vicinity, probably for an attack, investigators said.
Police have included the names of two Pakistan diplomats in Colombo — Siddiqui, counsellor (visa) at the Pakistan High Commission in Colombo, and his associate Boss, alias Shah — in the FIR. They allegedly engaged Hussain to gather information on vital installations in Tamil Nadu and Karnataka.
Police said the 37-year-old Sri Lankan confessed to have been noting down the registration numbers of some US consulate officials and tracking their movements. "He said he had taken pictures of the consulate and e-mailed them to the Pakistan high commission officials in Colombo for which he was paid Rs 20,000 as initial payment. Since the photographs were not of high resolution, he was assigned to shoot again," an officer said. "He was also updating the Pakistan diplomats on some other activities in the city."
Tamil Nadu 'Q' branch sleuths have sought the help of cyber crime officials to open Hussain's email. Hussain said someone had hacked his account and hence he is unable to open the mail box with his password. Investigators said though they don't know the exact content of his mail box, cyber signatures showed that some files he mailed were downloaded into a computer at the Pakistan high commission in Colombo.
Soon after his arrest, Hussain had told his interrogators that he was hired by an official in the Pakistan high commission in Colombo to conduct reconnaissance of US consulate in Chennai and Israel consulate in Bangalore. After collecting details, the ISI was planning to send two men from Maldives to Chennai. He had also been assigned to arrange for their travel documents and hideouts, investigators said.
Police have also found that Hussain was earlier arrested in Trichy in a fake passport case. A magistrate court on Thursday sent Hussain, who was in police custody, to jail. Hussain's counsel Zainul Abideen said that he wasn't aware of Hussain's previous cases. "Only after I meet him can I confirm or deny the charges," he said. Assistant public prosecutor S Dhiraviaraj said magistrate S Siva Subramanian has remanded the suspect in judicial custody till May 13. – TOI