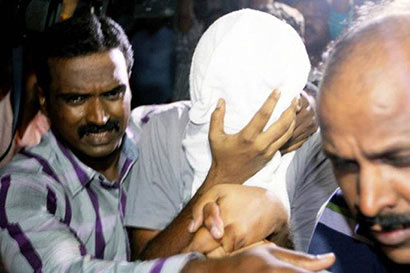 Sri Lankan national Arun Selvarajan, arrested by NIA on Wednesday for spying in India on behalf of Pakistan's ISI, has turned out to be an LTTE man. A Lankan Tamil, Selvarajan is wanted in Sri Lanka for providing logistical support to LTTE cadres. There is a lookout notice pending against him.
His interrogation has revealed that he was a far bigger asset for ISI than the myriad spies it recruits routinely. He was not just conducting espionage but was also helping the agency prepare for possible terror attacks. Sources said he had even conducted reconnaissance of the Kalapakkam nuclear plant site in Tamil Nadu and enrolled in an aviation academy in India. His study was funded by ISI.
He also conducted reconnaissance of the Koyembedu market in Chennai, said sources. "In the past couple of years, he had even befriended a few government officials and corporate executives. These are very serious activities which go beyond regular espionage. We are interrogating him if he had any plans vis-a-vis the plant and the market and what was the purpose of enrolling in an aviation academy," said an NIA officer.
NIA has also recovered from him pictures and route sketches of the NSG hub in Chennai, and Vizag and Kochi ports, Officers' Training Academy in Chennai and Coast Guard installations on the eastern coast. The agency hopes to recover more incriminating material from six mobile phones, one laptop, four hard disks, an Apple iPad, 1TB portable drive and three pen drives.
Of the two passports recovered from him (one Lankan, one Indian), the Indian passport was made in the name of Sarvana Muthu. NIA also recovered several debit and credit cards of banks belonging to both India and Sri Lanka. "Transfer of money from his controllers in Sri Lanka through money transfer service is also suspected and being further investigated. In addition, approximately 1 kg of Ganja (cannabis) has also been recovered," said an NIA officer.
Sources said he was recruited by a Pakistani official in Colombo Amir Zubair Siddiqui but was being handled by another official Saage as Siddiqui was called back to Pakistan following protest from Sri Lanka over his activities. Sources said Siddiqui and Saage took advantage of Selvarajan falling on the wrong side of the law in Sri Lanka and lured him with the promise of protection and money.
He was sent to Chennai where ISI helped him open an event management company in the name of ICE Events which organised functions for various corporate groups, government agencies and even celebrities such as singer Yesudas. "The basic idea of the event management cover was that it would not only be a legitimate business but also give Selvarajan access to vital installations and influential people both within and outside the government," said the NIA officer.
NIA is also preparing to visit Sri Lanka for further investigations. "We will request home ministry to send a team to Sri Lanka," the officer said.
Selvarajan is the third Lankan national arrested since April 2013 for spying in India on behalf of Pakistan. Security establishment sources say Sri Lanka has become the new hub for ISI activity. "This has coincided with massive radicalization among Muslims in north and eastern Sri Lanka. Pakistan is also fishing in troubled waters in Maldives. This expanding capability of Pakistan beyond Nepal is a cause for concern," said an intelligence official. Unlike Nepal, where India has an extensive RAW network, external intelligence assets in Sri Lanka are not so robust.
The first Lankan national to be arrested for spying in India was Mohammed Sakir Hussain, arrested from Chennai in April 2013. This was followed a month later by the arrest of Lankan national Mohammed Hussain Suleman Hussain in Malaysia. The two were planning to send two Maldivian nationals to India to target US and Israeli consulates in Chennai and Bangalore, Times of India reports.