Japan's quake catastrophe: President donates US $ 1 million
Posted by Editor on March 14, 2011 - 8:41 am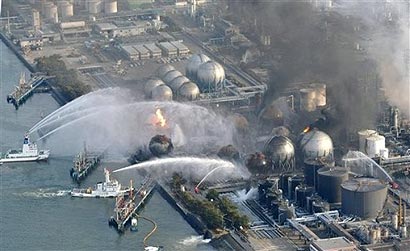 President Mahinda Rajapaksa has decided to provide one million US dollars in assistance towards the welfare of the Japanese people affected by last Friday's earthquake and tsunami.
The President has already directed Treasury Secretary Dr P B Jayasundera to take necessary action for the release of this sum.
President Mahinda Rajapaksa has also instructed the relevant authorities to dispatch a team of Sri Lankan medical specialists and a team from the Three Forces with special training to Japan to help out in the relief mission now on in the aftermath of the catastrophe.
The Sri Lankan Ambassador in Japan has also been directed to take further steps in this regard.
Meanwhile, an AFP report states: Japan on Sunday committed 100,000 troops to help earthquake and tsunami survivors as the world rallied behind the disaster-stricken nation.
More than 215,000 people were in emergency shelters.
Power was out in the quake-hit city of Sendai, and food and fuel were running low.
Offers of help poured in from across the world.
Courtesy: Daily News – Pix by AP

Latest Headlines in Sri Lanka