Japanese leaders praise Sri Lanka's progress
Posted by Editor on March 14, 2013 - 8:24 pm
By Janaka Alahapperuma (Pix by: Sudath Silva)
Deputy Prime Minister of Japan, Taro Aso called on the Sri Lankan President, Mahinda Rajapaksa on Wednesday (13) afternoon during his four day official visit to Japan. Defence Minister of Japan, Itsunori Onodera also met with the President just after the conclusion of the Japanese deputy premier's meeting at the same venue.
In a different occasion, Member of House of Representatives and Chairman of the Committee on Foreign Affairs of Japan Katsuyuki Kawai called on President Mahinda Rajapaksa at Hotel Imperial in Tokyo. Minister for Foreign Affairs Fumio Kishida also paid a courtesy call on President Rajapaksa at the hotel.
During the discussions, while thanking Japan for its continues assistance to Sri Lanka's development and progress, the President remarked that leaders and people of the world should visit Sri Lanka to see for themselves the progress the country had achieved in all aspects in recent times.
Japanese leaders praised the initiatives have taken by the government of Sri Lanka under the leadership of President Rajapaksa and said that the progress achieved by Sri Lanka following the conclusion of the conflict, is extremely praiseworthy. They further stated that more Japanese nationals are showing willingness to visit Sri Lanka as the security situation has returned to normal. They also recalled with gratitude the assistance provided by Sri Lankan government and the people of Sri Lanka to Japan, in the aftermath of the Japanese tsunami two years ago.
President Rajapaksa is expected to hold discussions with Japanese Prime Minister Shinzo Abe today (Thursday 14) and have an audience with the Japanese Emperor Akihito and Empress Michiko who will also be hosting a lunch for the President Rajapaksa and the First Lady, Shiranthi Rajapaksa.
Meanwhile Minister of External Affairs states that bilateral ties between Japan and Sri Lanka will be further strengthened as the two nations celebrate 60 years of diplomatic relationship.
Senior Minister for Urban Affairs A.H.M. Fowzie, Minister of External Affairs Prof. G.L. Peiris, Minister of Irrigation and Water Resources Management Nimal Siripala de Silva, Monitoring MP for the Ministry of External Affairs Sajin Vass Gunawardena, Secretary to the President Lalith Weeratunga and Governor of the Central Bank Ajith Nivard Cabraal are among the Sri Lankan officials, along with a business delegation, accompanying the President on his second official visit to Japan.
Japanese Ambassador in Sri Lanka Nobuhito Hobo and Sri Lankan Ambassador in Japan Admiral (Rtd) Wasantha Karannagoda were among others who were present.
Pictures show Deputy PM Taro Aso, Defence Minister Itsunori Onodera, Chairman of the Committee on Foreign Affairs Katsuyuki Kawai and Minister for Foreign Affairs Fumio Kishida holding discussions with the President.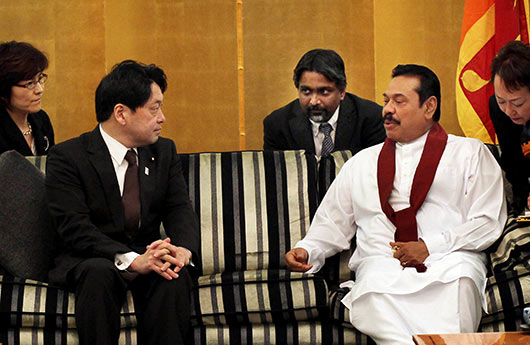 Latest Headlines in Sri Lanka