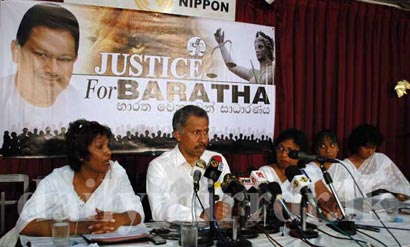 FILE PHOTO
Six family members of slain SLFPer Bharatha Lakshman Premachandra will attend the United Nations Human Rights Council (UNHRC) session in Geneva today while one family member is scheduled to address the session with regard to the killing of Mr. Premachandra and other alleged politically motivated killings in Sri Lanka.
The late Mr. Premachandra's eldest sister Chithra Premachandra told the Daily Mirror that the UNHRC had invited the Premachandra family to make a speech at the Geneva sessions following strong lobbying by human rights groups in Canada.
Besides Ms. Chithra Premachnadra, the rest of the late Premachandra's siblings are all residents in Canada. The six members of Mr. Premachandra's family who will attend the UNHRC session includes his sister Swarna Gunaratne, her son Dilan Gunaratne, another sister Sunethra Abeysinghe, her daughter Shanika Abeysinghe, their brother Asela Premachandra, and Brother-in-law Vishwajith Wijeysinghe.
Their sister Swarna Gunaratne is expected to make a speech at the UNHRC session probably followed by another speech by Mr. Premachandra's niece Shanika Abeysinghe who is a law student.
"It is not only my brother but there have been a lot of other political murders like this," Ms. Chithra Premachandra said. Commenting on MP Duminda Silva who is alleged to have been responsible for the killing of Mr. Premachandra, she said law enforcement authorities should take immediate action against him.
(Courtesy: DM Online)