Jaya writes Modi on arrest of Indian fishermen
Posted by Editor on June 3, 2015 - 8:29 am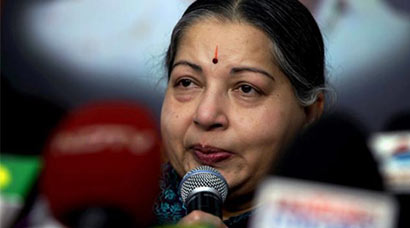 In her first letter to Prime Minister Narendra Modi after taking over as chief minister, J Jayalalithaa on Tuesday sought his personal intervention for the release of 14 Tamil Nadu fishermen who were arrested by Sri Lankan authorities on Monday night.
"I urge your immediate personal intervention in this issue and request you to direct the ministry of external affairs to take up the matter with the Sri Lankan authorities to secure the immediate release of the 14 fishermen who were apprehended on June 1 and their three fishing boats along with the 18 fishing boats which are already in the Sri Lankan custody," she said.
"I write with a deep sense of anguish that right at the beginning of the fishing season on June 1, after a 45 day fishing ban, 14 fishermen from Tamil Nadu, along with their three fishing boats, have been detained by the Sri Lankan navy," said Jayalalithaa.
Three mechanized boats which set sail for fishing from the Rameswaram fishing base were apprehended by the Sri Lankan navy in the late hours of Monday and were taken to Thalaimannar in Sri Lanka, the chief minister said.
"There are already 18 boats belonging to our fishermen in Sri Lankan custody. I would like to specifically point out that of the 80 boats impounded since June, 2014, 16 boats were completely ruined beyond recovery and could not be salvaged. Boats and fishing gear which are essential for the poor fishermen to earn their livelihood are deliberately not released by the Sri Lankan authorities while releasing the fishermen," she said.
(Times of India)
Latest Headlines in Sri Lanka