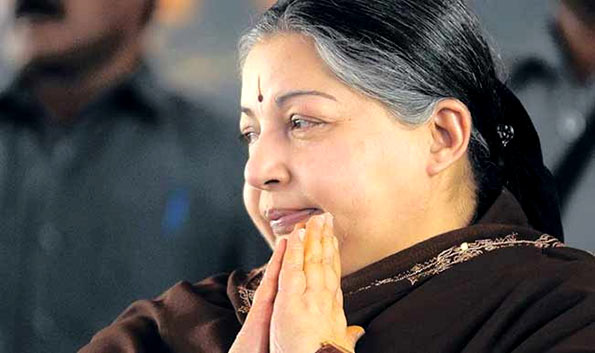 Jayaram Jayalalitha is set to return as the chief minister of the southern Indian state of Tamil Nadu after the state governor invited her to form a new ministry.
Her conviction in a corruption scandal last year had cut short her fourth term as the chief minister, but earlier this month, an appeals court cleared her.
Her replacement O Panneerselvam quit on Friday, paving the way for her return.
Jayalalitha, a former actress, is one of India's most colourful politicians.
She has been a leading figure in south Indian politics for three decades.
Ms Jayalalitha was convicted and sentenced for four years by a trial court last September.
She was found guilty of amassing unaccounted-for wealth of more than $10m (£6.4m) and had to quit as the chief minister.
The appeals court ruling earlier this month paved the way for her returning as the head of Tamil Nadu government.
On Friday morning, Tamil Nadu Governor K Rosaiah's office said in a statement that Mr Panneerselvam, party leader and loyalist who was heading the government in her absence, resigned along with his cabinet ministers.
The governor accepted the resignations and invited Ms Jayalalitha to form a government "at the earliest", the statement added.
Earlier, legislators belonging to her regional AIADMK party met and elected Ms Jayalalitha as the leader of the legislature party.
"This is the happiest day of our life," former minister Sellur K Raju told the NDTV news channel.
Reports say Ms Jayalalitha will make her first public appearance later during the day, and then form her government.
(BBC)