Ranil has no real mandate – Nimal Siripala
Posted by Editor on May 22, 2015 - 7:16 am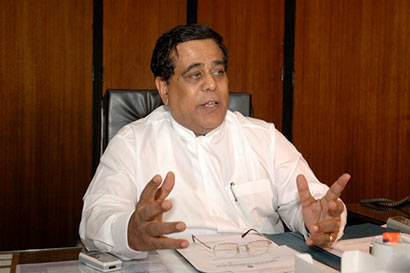 Leader of the Opposition Nimal Siripala de Silva said yesterday that Ranil Wickremesinghe became the Prime Minister due to the benevolence of President Maithripala Sirisena as it is impossible for a party that does not command the majority support in Parliament to appoint its leader as the Prime Minister.
He said this in response to a statement made by the Prime Minister in Nupe, Matara.
Wickremesinghe said "the opposition leader is playing with the people's mandate. He does not participate in his leader's attempt to instil good governance and he focuses principally on supporting the rogues."
In response, de Silva said Wickremesinghe has no right to occupy the office of the Prime Minister and that he lacks ethic. He added that in such a backdrop it was ridiculous that the Prime Minister was making such allegations.
He added that the Prime Minister has ridiculed the judiciary by criticizing the Supreme Court decision with regard to former Defence Secretary Gotabaya Rajapaksa' Fundamental Rights application. De Silva also stated that the President has ensured independence of the judiciary, whilst the Prime minister who preaches about good governance is ridiculing it.
De Silva further stated that he is actively engaged with the President in promoting good governance, however, he does not support the Prime Minister who displays the exact opposite through his actions.
He added that the Financial Crimes Investigation Division (FCID) that comes under the purview of the Prime Minister is politicized and that he used political influence to clear the Central Bank Governor with regard to Treasury Bonds fraud.
(Ceylon Today)
Latest Headlines in Sri Lanka