Jayalalithaa seeks Modi's intervention for release of 47 Indian fishermen in Sri Lanka custody
Posted by Editor on December 23, 2015 - 6:32 am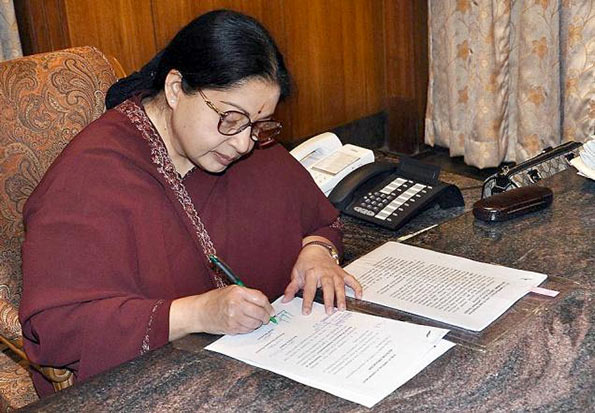 CHENNAI: Expressing concern over the frequency of detention of Indian fishermen by the Sri Lankan navy, Tamil Nadu chief minister J Jayalalithaa on Tuesday sought the intervention of Prime Minister Narendra Modi for the immediate release of 47 fishers and 57 fishing boats in Sri Lankan custody.
In the latest incident, six fishermen who went for fishing from Jegathapattinam fishing base in Pudukkottai district were detained by Sri Lankan naval forces on Saturday. The boat and fishermen were taken to Kankesanthurai in Sri Lanka.
"These recurrent instances of attacks upon, and abductions of, our fishermen on the high seas in the Palk Bay should be stopped immediately, and our fishermen should be allowed to pursue their peaceful avocation of fishing in their traditional fishing waters of the Palk Bay," Jayalalithaa said in a letter to Modi.
The long period of disuse and the exposure to the onslaught of an exceptionally strong northeast monsoon this year would have inflicted severe damage to the boats and equipment, the chief minister said, urging Modi to direct the ministry of external affairs to take up the matter with the Sri Lankan authorities.
"I request the Centre to take necessary action to restore the boats and fishing gear of these poor fishermen," she said.
The consistent stand of the Tamil Nadu government is that the International Maritime Boundary Line (IMBL) with Sri Lanka cannot be treated as a settled question as the constitutionality of the 1974 and 1976 agreements ceding the Katchatheevu islet has been challenged by Jayalalithaa, in her personal capacity, in the Supreme Court. The state government has also impleaded itself in the case later.
Jayalalithaa reminded Modi of the state's request for a comprehensive special package for deep sea fishing and infrastructure at Rs 1,520 crore and recurring grant of Rs 10 crore per annum for maintenance dredging.
(The Times of India)
Latest Headlines in Sri Lanka