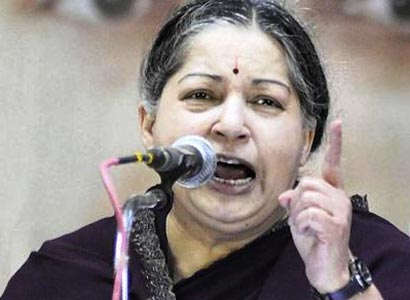 Onlanka News – By Walter Jayawardhana
In another apparent headline and vote catching attempt for her AIADMK in the coming elections Tamil Nadu's Chief Minister Jayalalitha said she will soon go the Supreme Court seeking that the 1974 and 1976 accords under which Katchateevu islet that was ceded to Sri Lanka by the Central government of India was illegal.
Jayalalitha said she wants to pave the way for the retrieval of the people  less parched sandy island in her latest anti-Sri Lanka move.
Tamil Nadu government on Saturday said it has decided to move the Supreme Court for expediting a pending case seeking that the 1974 and 1976 accords under which Katchatheevu islet was ceded to Sri Lanka by India be declared illegal to pave way for its retrieval back to India.
Chief Minister Jayalalithaa said she chaired a review meeting on Friday with the Chief Secretary and other officials from relevant departments including Revenue where the decision was taken.
"It was decided in the meeting that the Tamil Nadu government will file a petition in the Supreme Court seeking to expedite the case (filed by her in 2008 and in which the Revenue Department impleaded itself later) seeking declaration of the agreements illegal," she said.
The decision was taken following the attacks on Indian fishermen by Sri Lankan navy which "continue unabated," Ms. Jayalalithaa said in statement.
Katchatheevu in the Palk Straits has come into focus with Tamil Nadu fishermen alleging frequent attacks by the Sri Lankan Navy on them when they for fishing near the islet.
Ms. Jayalalithaa has also repeatedly spoken of the fishermen's "traditional fishing rights" there while pitching her case with the Centre for its retrieval from Sri Lanka.
She had filed a case in the Supreme Court in 2008 in this regard, and after her party was elected to power last year, had moved a resolution in the Assembly seeking to implead the Revenue Department in the case.
Earlier, she was involved in chasing out Sri Lankan soccer teams who were there playing friendly games with certain Chennai teams in a frenzy.