Eight new diplomats present credentials
Posted by Editor on September 15, 2012 - 10:05 am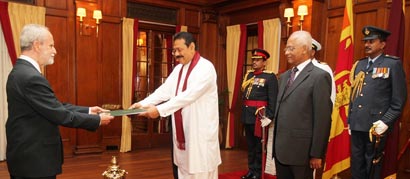 Onlanka News – By Janaka Alahapperuma
(Pix by: Sudath Silva)
Eight foreign envoys including six new Ambassadors and two High Commissioners handed over their credentials to President Mahinda Rajapaksa on 14 September. The ceremony for the handing over of credentials by the new diplomats was held at the Presidential Secretariat under the patronage of the President.
The new envoys who presented their letters of credence were
·  Marcelo Leonardo Da Silva- Ambassador for the Federative Republic of Brazil.
·  Dr. Janos Terenyi- Ambassador of Hungary
·  Grete Lochen- Ambassador of the Kingdom of Norway
·  Michele Jeanne Sision- Ambassador of the United States of America
·  Abdul Hameed Abdul Fattah Kazhim Al-Mulla- Ambassador of the United Arab Emirates
·  Dr. Jurgen Morhard- Ambassador for the Federal Republic of Germany
·  Femi Akenson Rotimi- High Commissioner of the Federal Republic of Nigeria
·  Maria Michail- High Commissioner of the Republic of Cyprus
Welcoming new envoys to the credential ceremony President Rajapaksa said that they are all joining their assignments at a crucial time when Sri Lanka's economy is at a rapid growth after eliminating thirty years of brutal terrorism. The Government's rehabilitation, reconciliation, resettlement, reconstruction and development process have achieved a huge amount of progress within short period of time. The President also said Sri Lanka seeks to work with the international community and requested their support to rebuild post war Sri Lanka, which would create an environment for the progress and prosperity of people.
The new envoys pledged to work diligently to strengthen bi-lateral relations as well as their goodwill and assistance for government's development projects. After the presentation of credentials, the new diplomats signed the VIP visitors' book.
The credential presentation ceremony was attended by the Minister of External Affairs, Prof G.L. Peiris, Secretary to the President Lalith Weeratunga, Chief of Protocol of the Ministry of External Affairs, Majintha Jayasinghe, senior officials of the Ministry of External Affairs, senior members representing Sri Lanka Security Forces and officials of the missions.
Meanwhile Ambassador-designate of the United States of America Michele J. Sison, who arrived in Sri Lanka recently, called on Professor G.L. Peiris, Minister of External Affairs, at the Ministry before the credential handing over ceremony. They have discussed co-operation between the two countries in a variety of fields including political, economic developments, trade, investment, defence and the environment.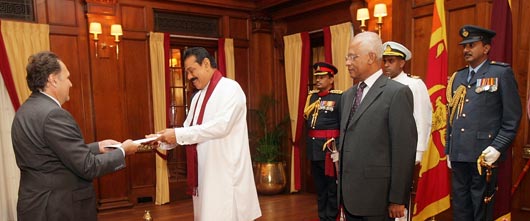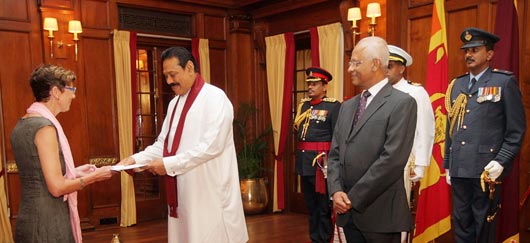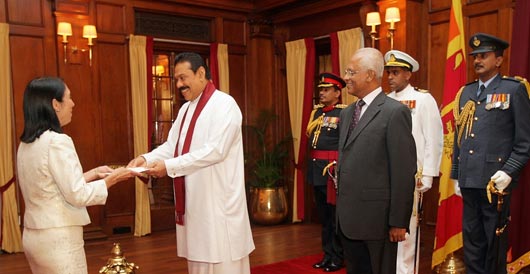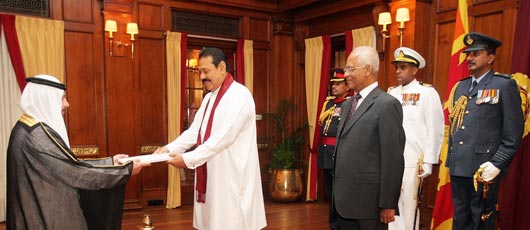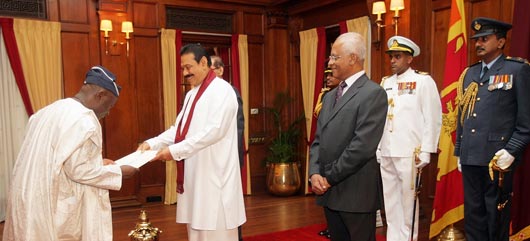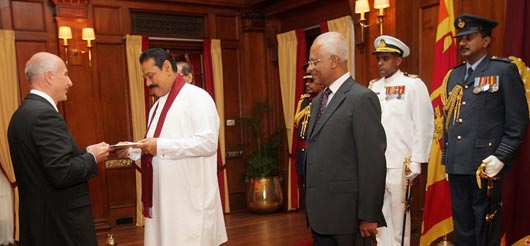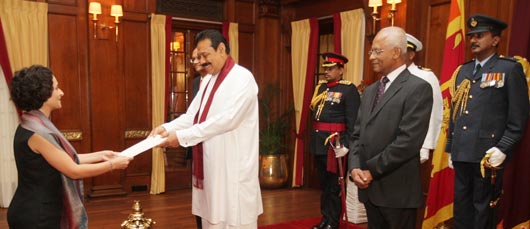 Latest Headlines in Sri Lanka