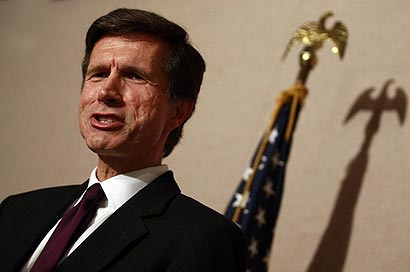 United States wants the Sri Lankan government to show "accelerated progress" in speeding up the process of reconciliation and granting of political rights to the Tamils of the North.
Asked to elaborate on what "accelerated progress" meant, United States Assistant Secretary of State for South and Central Asia, Robert O' Blake said here on Friday that it is "incumbent on the government to show that it is committed by doing everything it can, as quickly as possible, the full range of actions that were mentioned in the LLRC [Lessons Learned and Reconciliation Commission] report."
Mr. Blake, who is here on a three-day visit, said that he had "wide-ranging and productive series of meetings" with political leaders, business community leaders and members of civil society. "I discussed in all our meetings the need for accelerated progress to implement the recommendations of the Lessons Learned and Reconciliation Commission (LLRC) and the National Action Plan. I emphasised the importance of progress in reducing the role and profile of the military in the North, and full respect for human rights," he said.
Emphasising that implementation of the LLRC – the report that went into the causative factors of the war that split the Sinhala and Tamil communities and suggested remedial action – was the best way to achieve progress for Sri Lanka, Mr. Blake said that it was desirable to "move forward as quickly as possible" and implement the action plan." "I just feel there are a lot of questions on how quickly Sri Lanka is committed to moving ahead on this," he said.
Drawing a comparison between the North and the East, he said that elections to the Eastern Provincial council were held just a year after the East was free of Tamil Tigers. Three years after the war was won, North still did not have a provincial council. In his meetings with senior Sri Lankan government officials in Colombo, he urged that the Northern Provincial Council elections be held as soon as possible. He also "encouraged an early resumption of talks between the TNA and the government to agree on powers to be devolved to the provinces."
"On issues of accountability, it is our hope that three years after the end of the conflict, there can be a credible and transparent accounting, investigation and prosecution of some of the outstanding and serious allegations of human rights violations, as well as progress on the missing," he said, and added that accountability is a "very important part of the reconciliation process."
Mr. Blake, a former Ambassador to Sri Lanka, introduced the new Ambassador to Sri Lanka and The Maldives, Michele Sison, who arrived last week. Ms. Sison had earlier served in the region in Chennai, as Consul General for South India.
Source: The Hindu