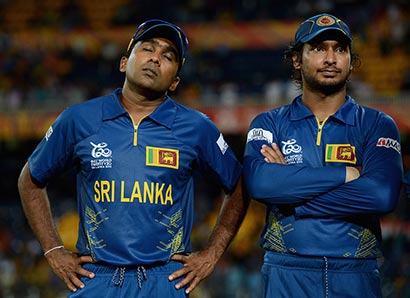 Mahela Jayawardene has resigned as Sri Lanka's Twenty20 captain, soon after his team lost the final of the World Twenty20 against West Indies in Colombo. He said he will remain captain of the ODI and Test teams until at least the end of Sri Lanka's tour of Australia in January, and remains available for Twenty20 selection.
"I had a chat to the selectors before this tournament started. I was going to step down from T20 captaincy after this World Cup," Jayawardene said. "I personally feel that for Sri Lanka going forward we need a younger leader. It's a great opportunity for somebody to start in that T20 format. I've spoken to the selectors and they were quite happy with that choice."
Vice captain Angelo Mathews has been groomed for captaincy over the past 18 months, and is the obvious candidate to take the reins in the shortest format.
Jayawardene, 35, had given up the captaincy in all formats in 2009, but resumed leadership when Tillkaratne Dilshan quit the post in January this year. In his second stint at the helm, Jayawardene has seen himself as an interim captain until the younger crop of Sri Lanka players are ready to step into leadership. In addition to Dilshan, Kumar Sangakkara has also led the side in recent years, before resigning after Sri Lanka's World Cup final loss in 2011.
"I took over till the Australia tour, so I'll assess what I want to do after that," Jayawardene said.
ESPN CricInfo