JHU move won't upset presidential campaign -GL
Posted by Editor on November 19, 2014 - 7:33 am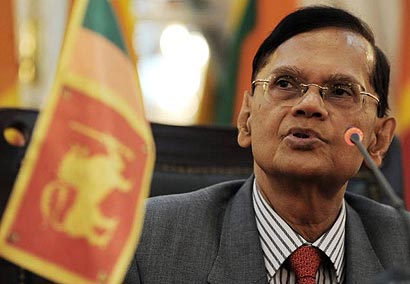 External Affairs Minister Prof. G. L. Peiris yesterday said that the JHU's actions wouldn't hinder incumbent President Mahinda Rajapaksa's ongoing campaign, much less prevent his victory at the next presidential election.
Prof. Peiris was addressing the media at the SLFP headquarters in the wake of JHU General Secretary Patali Champika Ranawaka and Western Province Minister Udaya Gammanpila giving up their ministerial portfolios over dispute with the SLFP.
The External Affairs Minister said that the JHU move wouldn't weaken the President's position and, therefore, it was wrong to think it would undermine the UPFA's presidential campaign.
Commenting on the JHU's proposals, Prof. Peiris said that the SLFP hadn't rejected 35 proposals put forward by UPFA constituent but it needed time and space to consider them. "It was their choice to resign from ministerial posts and coalition partners have the freedom to take any decision."
Expressing his displeasure at the extension of the deadline for the submission of evidence by individuals, organisations and governments as regards the ongoing UN investigation targeting Sri Lanka, Prof. Peiris said the country was being attacked though security forces defeated the LTTE over five years back. Although the LTTE had lost its conventional military power, those still promoting separatist ideology were conspiring against the country, Prof. Peiris said.
The minister alleged that pro-LTTE elements had been working overtime to destabilise the government with the help of international powers, unlimited funds and a section of the media.
The government needed the people's backing to defeat these conspirators, the minister said, urging the public to back President Rajapaksa's government to protect the country from sinister elements.
Prof. Peiris recalled the circumstances under which he had met UN Resident Coordinator and UNDP Resident Representative in Sri Lanka Subinay Nandy regarding the disturbing developments in Geneva. "We expect an immediate reply from him," Prof. Peiris said.
(Courtesy: The Island)
Latest Headlines in Sri Lanka