JHU still undecided; No more talks with MR – Ranawaka
Posted by Editor on November 28, 2014 - 6:47 am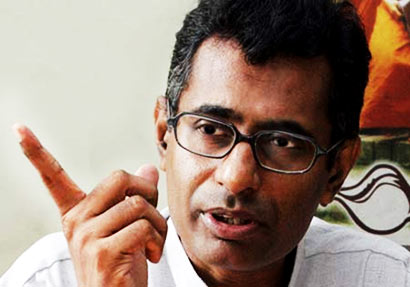 Jathika Hela Urumaya (JHU) General Secretary Patali Champika Ranawaka yesterday said that his party would take its final decision within next few days as they were still having discussions with Opposition common candidate Maithripala Sirisena.
Addressing a meeting at the New Town Hall, Colombo, Ranawaka said that there would be no further talks with President Mahinda Rajapaksa.
The former minister said the JHU would support any candidate who would agree to the JHU's conditions—stripping the executive presidency of its draconian powers, establishing commissions for good governance and electoral reforms. "We are expecting a positive response from Maithripala Sirisena," he said.
Ranawaka said that the JHU had no issues with Tamil National Alliance (TNA) and Sri Lanka Muslim Congress (SLMC) as regards good governance.
He also said that UNP leader Ranil Wickremesinghe could become the prime minister of next government only if he could obtain 113 seats in Parliament with the support of all other members.
Former Minister Ranawaka said the country's economy was collapsing and it was being propped up with foreign loans.
Ranawaka stressed that they would not be afraid of files, threats, power or money.
(The Island)
Latest Headlines in Sri Lanka