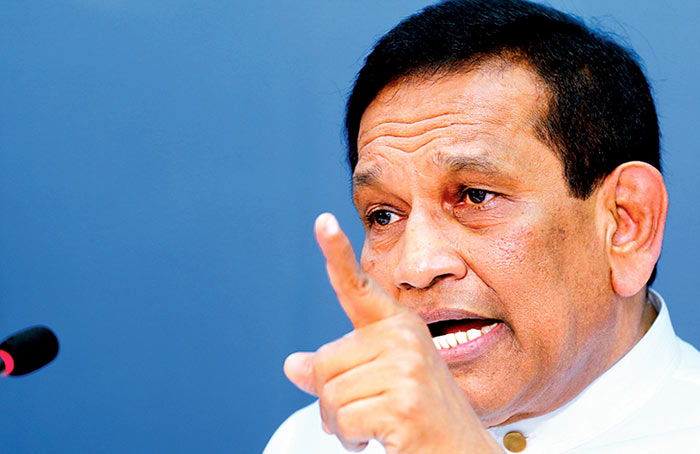 Co-cabinet spokesperson, Minister Rajitha Senaratne yesterday stated that the vote against Dr. Sudharshani Fernadopulle was not personal and that it was the split within the Joint Opposition that had led to her loss.
"It was nothing to do with the individual.We saw that many in their camp, especially the Rajapaksas had left by the time the vote was taken", Minister Senaratne addressing the weekly media briefing said yesterday.
Explaining the reason as to why there were two candidates put forward for the Deputy Speaker post, Senaratne said Dr. Fernandopulle's nomination was done at the very last moment. According to the agreement between the UNP and SLFP, if the position of Speaker went to the UNP, the position of Deputy Speaker was destined go to the SLFP.
"The SLFP put forward the name of Angajan Ramanathan.But the TNA opposed it because of certain incidents he was involved in. We did not want to antagonize any party unnecessarily. So the name was withdrawn. The Prime Minister asked the President if there was any deputy minister who would like to resign and take it on, but there was none. Then the President said there is no one from our side, you choose from yours.The UNP working committee then approved the name of Ananda Kumarasiri"
The President proposed Dr. Sudharshani Fernandopulle at the last minute on Tuesday.But the PM pointed out that they had already got party approval for Kumarasiri and it was now hard to go back. So the President said it was fine, both could contest," Senaratne said.
He said the government had decided to give one position in Parliament to the Opposition and keep two under government control. Accordingly the positions of Speaker and Deputy Speaker are with the government whilst the position of Deputy Chairman of Committees is with the Opposition (TNA).
(Source: Daily News – By Zahrah Imtiaz)