Johnston to be produced before Magistrate's Court
Posted by Editor on May 5, 2015 - 8:41 am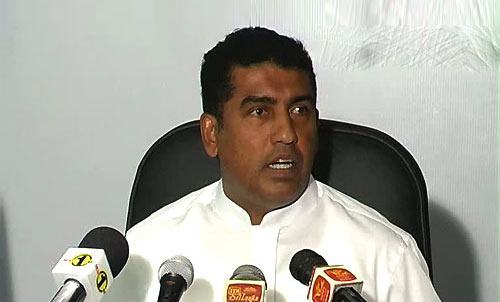 Former Minister and UPFA Parliamentarian Johnston Fernando is to be produced before the Kurunegala Magistrate's Court over alleged misappropriations at Sathosa that took place under his watch.
Fernando's lawyers have given an undertaking to the court that he will be produced before court "as soon as possible".
The Police Financial Crimes Investigations Unit (FCID), which conducted preliminary investigations into the matter, had presented evidence to the court to prosecute the former Minister.
Fernando was in charge of Sathosa during his tenure as the Minister of Internal Trade and Cooperatives.
When contacted by the Daily News, a senior Police Officer said the Police did not arrest the former Minister due to the undertaking given by his lawyers. He said the former Minister would be charged for offences committed against public property.
"However, if the former Minister fails to act in accordance with the undertaking, the Police will have to arrest him for absconding," the senior Police officer added.
Informed Police sources said Fernando would be arrested tomorrow if he failed to appear before court today.
The FCID had received complaints that the former Minister had allegedly used resources of Sathosa for the former President's election campaign.
The FCID also conducted an investigation into the conduct of the former Chairman of Sathosa who was appointed by Fernando.
(Daily News)
Latest Headlines in Sri Lanka