Journalist murder probes have a long way to go – Mangala
Posted by Editor on December 4, 2017 - 2:49 pm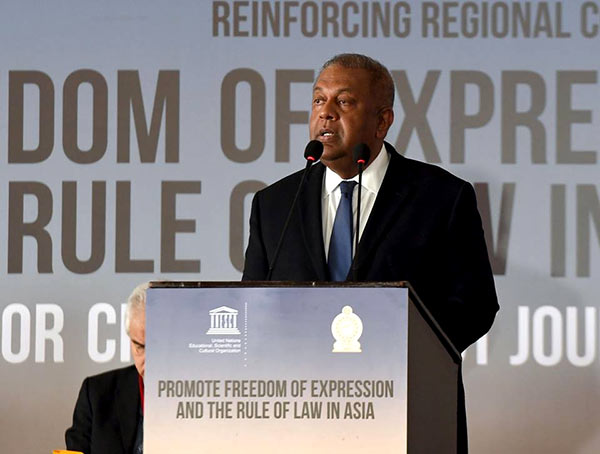 The Sri Lankan Government on Monday said it remains firm in its commitment to work with the international community, to work towards ending impunity for crimes against journalists, and to uphold the rights of journalists around the world who place themselves at risk every day, to give voice to the voiceless.
Minister of Finance and Mass Media, Mangala Samaraweera said that Sri Lanka used to be a most unsafe place for journalists, not too long ago.
"It gives us the important opportunity to reflect on our past, and resolve to never allow a recurrence of that dangerous past in our country, for journalists, ever again."
He was addressing the Opening Ceremony of the UNESCO Regional Conference on Reinforcing Regional Cooperation to Promote Freedom of Expression and the Rule of Law in Asia through Ending Impunity for Crimes against Journalists, held this morning (4) at Taj Samudra, Colombo.
The minister said that while the government has succeeded to a large extent in creating the safe space required for freedom of expression, they must keep on working hard to sustain and safeguard this space, and that they still have a long way to go in terms of completing investigations into past crimes, including the murder of journalists in the past.
"It is also an occasion for us in Sri Lanka to recognize and acknowledge that justice is crucial and essential, because impunity will leave open the danger of the recurrence of the heinous crimes that occurred in the past."
"Therefore, this is an important occasion for us locally, to renew our commitment to justice, in memory of all the journalists who have been silenced, and in recognition of the importance of a free and independent media, for advancing peace, development, and good governance in our country."
He said that freedom of expression is a basic human right, and that it is also one of the most important components of every democratic nation, and an essential component for democracy to function as it should.
For the media to be able to fulfill its' important role in a democracy, journalists, media workers, bloggers, media organizations and individuals must be able to discuss and debate issues freely and safely, the minister said.
(Ada Derana)
Latest Headlines in Sri Lanka