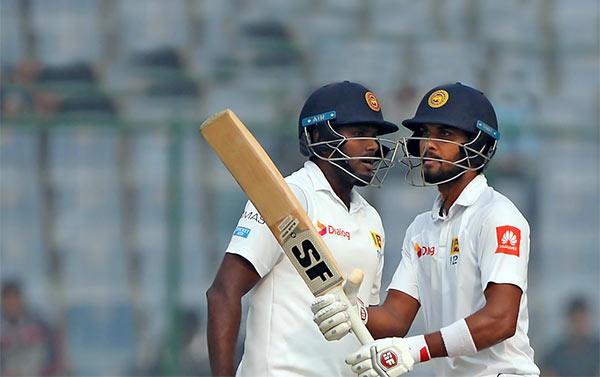 Having kept it locked up all through this tour, Sri Lanka finally reminded everyone of the batting quality they possess, as centuries from Dinesh Chandimal and, at long last, Angelo Mathews helped them avoid the follow-on at the Feroz Shah Kotla.
Given how long they were kept on the field, India would probably not have enforced the follow-on anyway. The Chandimal-Mathews partnership alone consumed 79.1 overs.
And yet, once they found a way past that stand – having missed numerous opportunities to do so previously – India reasserted their dominance. R Ashwin, underbowled for most of the innings, led the way, taking three wickets on a pitch that only gave the spinners modest assistance, and the other three bowlers made valuable incisions too. Wriddhiman Saha, on a day when India's catchers kept letting down their bowlers, made three quality grabs behind the wicket.
Having got through the first session wicketless, and nearly doing so again in the second, Sri Lanka lost wickets in a clump, sliding from 317 for 5 and ending the day at 356 for 9, with Chandimal still at the crease on an outstanding unbeaten 147.
(ESPN Cric Info)