Kandy – Colombo Expressway: Travel at 100 kmph; ADB gives US$ 500 m for first phase:
Posted by Editor on August 9, 2010 - 7:25 am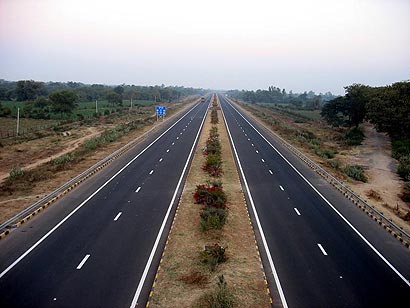 The travel time between Kandy and Colombo will be reduced to 50 minutes as a result of the elevated expressway linking the two cities spanning 98.9 km. It will be open to the public within four years.
A vehicle travelling along the highly congested Kandy – Colombo road takes over three hours to complete the 115 km journey at present.
Media and Communications Minister Keheliya Rambukwella said recently that the road would most probably not be a toll levying one as earlier speculated.
The speed limits would be set at 100 -120 kms per hour.
The project which was to be carried out by a Malaysian Firm earlier has now been entrusted to the Highway Department on President Mahinda Rajapaksa's instructions.
Highways Ministry Secretary Admiral Wasantha Karannagoda said this was due to the lack of progress and the expressway would be constructed as a fully Government venture.
He added that the President had successfully negotiated with the ADB for a US $ 500 million loan, adequate to complete the first phase.
According to Karannagoda, the expressway will be built on elevated concrete wire ducts to minimize land acquisition and mitigate effects of natural hazards such as floods. The President has advised to keep personal property acquisition to a minimum. "However we have allocated Rs 1 billion to pay for any damages or acquisitions," he added.
The expressway would consist of four lanes with provision to accommodate two more lanes in the future.
It would be implemented in two stages. Under the first stage, 48.2 km of a four lane elevated Expressway will be constructed starting from the Outer Circular Road access point at Kadawatha to Ambepussa with interchange points at Ambepussa, Balabowa, Mirigama and Ambepussa.
The second stage, 50.7 km four lane elevated expressway will be built from Ambepussa to Katugastota with interchanges at Devalegama, Rambukkana, Hataraliyadda and Hedeniya.
Local engineers attached to the Highways Department will be in charge of designing and construction work.
Daily News
Latest Headlines in Sri Lanka