Karu Jayasuriya calls for free and fair elections
Posted by Editor on July 11, 2012 - 10:05 am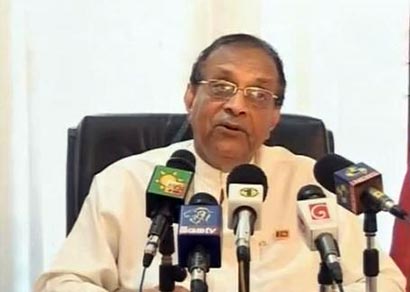 UNP Parliamentarian Karu Jayasuriya says that the government should conduct the upcoming provincial council elections in a free and fair manner, if it is not afraid of the true public opinion.
Issuing a media release, Parliamentarian Karu Jayasuriya notes that due to the unlimited power vested in the executive president through the 18th Amendment to the Constitution, the Commissioner of Elections and the Inspector General of Police, though honest and efficient, have been reduced to being mere spectators of the government's indiscretions.
The release also notes that if the government is keen to show the world a true reflection of public opinion, then it must refrain from using state resources, vehicles, helicopters and state buildings, including the president's house for election propaganda activities.
Jayasuriya adds that during the Provincial Council elections, the government must allow public officers and the police to act in a manner where they can safeguard their professional dignity.
Else, the parliamentarian opines that this Provincial Council election cannot be considered an election held on a level playing field and will thus not reflect genuine public opinion.
The release concludes by noting that members of the opposition should shed all political differences and make this a starting point to win a free and fair election on behalf of the masses, as it is their duty to protect the rights of the masses.
Courtesy: News First
Latest Headlines in Sri Lanka