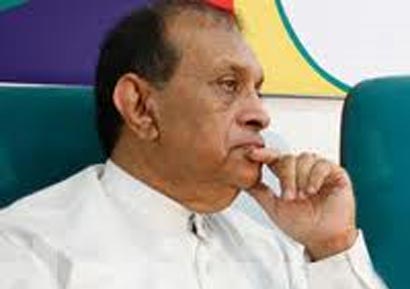 In a special statement issued today UNP Co-deputy Leader Karu Jayasuriya confirmed that he would contest for the party leadership at the next Working Committee elections.
Due to the vast number of invitations I have received, to contest for party leadership, I was compelled to except the invitation this time, he said.
"I am aware that there will be many obstacles to face. However, I assure that I will face them successfully and contest for party leadership" the Gampaha District MP says in the release.
Mr. Jayasuriya further states that his main objective, behind contesting for the position, "is to unite and save the party".
More than posts and ranks I love the party and this is the promise I gave to those who invited me to contest for the leadership, he said today issuing a special statement.
Karu Jayasuriya has continuously been pressed by UNP reformists and former MPs to take up the party leadership with Co-deputy Leader Sajith Premadasa even promising to bring in majority support in order to ensure the appointment.
Following the repeated calls, Karu in July announced that he is willing to accept any challenge given to him "if it is the will of the majority of party members and the general public".
Opposition Leader, Ranil Wickremasinghe however in a statement issued soon afterwards said that he has assigned Karu Jayasuriya to unite the party "as it is the majority view of the party".
Karu Jayasuriya, Minister of Power and Energy during the UNP government, crossed over to the UPFA government following the 2005 election and was made Minister of Public Administration and Home Affairs by President Rajapakse in the 2007 cabinet reshuffle.
He subsequently resigned from his portfolio on 9 December, 2008 and rejoined the United National Party as the Deputy Leader.
Courtesy: Ada Derana