Karunanidhi "satisfied" with talks on fishermen issue
Posted by Editor on February 2, 2011 - 9:28 am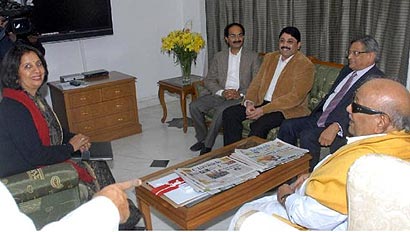 Chief Minister M. Karunanidhi on Tuesday said he was "satisfied" with the talks held by Foreign Secretary Nirupama Rao with Sri Lanka President Mahinda Rajapaksa in Colombo on Monday to prevent recurrence of attacks and firing on Tamil Nadu fishermen by the Sri Lankan Navy on the high seas.
Mr. Karunanidhi thanked Prime Minister Dr. Manmohan Singh for his "immediate response" to the State government's request for action by sending Ms. Rao to Lanka for talks.
Talking to journalists here, the Chief Minister referred to the meeting he had with External Affairs Minister S.M. Krishna and Ms. Rao who had earlier called on him to brief him on the Colombo talks, and said: "Mr. Krishna told me that they (India) will convene a meeting of the Indo-Sri Lanka Joint Working Group on the (fishermen) issue to discuss the recent killings."
Earlier, Mr. Karunanidhi raised the issue at the Chief Ministers' conference on internal security held here. Condemning the killing of two Tamil Nadu fishermen in the incidents he said: "The Sri Lankan government should abide by the Indo-Sri Lanka joint statement on fishing arrangements issued on October 26, 2008 in New Delhi categorically stating that there shall be no firing on Indian fishermen."
Fishermen who crossed international borders unwittingly and were apprehended by other neighbouring countries in the West and the East were not subjected to physical harm.
Whereas, the Indian fishermen who crossed the International Maritime border off Lanka were repeatedly subjected to physical harm, harassment and at times get killed.
Sri Lanka must be asked to follow the due procedure of law as India do in case Lankan fishermen crossed over into Indian waters.
Mr. Krishna told journalists that he had informed Mr. Karunanidhi about the high-level probe ordered by Mr. Rajapaksa into the killing of the fishermen.
The use of force against them should not be repeated, he said and asked Colombo to take a decision that would not upset the bilateral ties. Indian officials had pointed out to the Sri Lankan side that the use of force against fishermen did not happen even with countries such as Pakistan, he said.
Ms. Rao, during her visit to Colombo, had conveyed in an "open and candid manner" to Sri Lanka about the killings of the fishermen.
Source: The Hindu
Latest Headlines in Sri Lanka