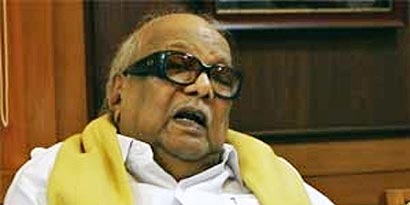 DMK president M. Karunanidhi on Monday urged the Union government not to encourage Sri Lankan President Mahinda Rajapaksa's visit to the country and announced a black-shirt demonstration in Chennai during his visit on February 8.
Explaining a resolution adopted in the Tamil Eelam Supporters Organisation (TESO) meeting, Mr. Karunanidhi alleged that Mr. Rajapaksa had led the massacre of Tamils and was seen as an enemy of humanity after being accused of war crimes and violation of human rights.
"He takes advantage of our friendly attitude and traditional hospitality. But he is a symbol of Sinhalese majoritarianism. India should not encourage his visit, as Tamils will not tolerate it," the resolution said.
Reiterating that Tamil Eelam alone would be the solution to the problems of Sri Lankan Tamils, Mr. Karunanidhi wanted the Central government to take steps to facilitate a resolution calling for a referendum during the general council meeting of the United Nations Human Rights Council (UNHRC) next month.
Asked whether TESO was still in favour of creation of Tamil Eelam, Mr Karunanidhi said, "Yes, yes, yes."
Asked why the TESO was not able to retain the vigour of the 1980s when it was able to force the Centre to cancel the extradition of Sri Lankan militants, Mr. Karunanidhi said there would be a series of agitations if its demands were not taken seriously by the Centre.
He also said TESO would hold a seminar in Delhi to bring to the notice of all political parties the sufferings of Tamils.
"Vajpayee attended the TESO meeting in 1986 in Madurai," he said while answering to a question whether the BJP would be invited for the seminar.
Recalling the US Deputy Assistant Secretary of State James Moore's assertion that a new resolution would be moved in the UN against Sri Lanka, he said India should strongly support the resolution. Another resolution adopted in the TESO meeting urged the Sri Lankan government to disclose information about LTTE leaders, including Baby Subramanian, Balakumar, Yogi, Puduvai Rathinadurai, Ilamparithi, who were arrested after the war.
"India also should put pressure on Sri Lanka in connection with the issue," the resolution said.
The TESO meeting also decided to hold a demonstration in Rameswaram and Nagapattinam on February 18 and 19 respectively to urge the Centre to set up a Naval base near Manadapam to prevent the killing of Tamil fishermen by the Sri Lankan Navy.
TESO also has constituted seven teams comprising DMK MPs and Thol Thirumavalavan to hold talks with Ambassadors of various countries to muster support for the Sri Lankan Tamils cause.
The Hindu