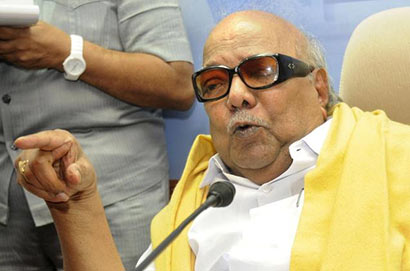 Submitted by Walter Jayawardhana
CHENNAI: Three days after a scathing attack against the UPA government for its silence on alleged war crimes in Sri Lanka, DMK chief M Karunanidhi launched another tirade against the Centre on Saturday, this time over President Pranab Mukherjee's references to the rehabilitation process in the island nation in his address to Parliament on the opening day of the budget session.
"They are mere words and not reflective of the agony of the people of Tamil Nadu," Karunanidhi said, accusing the Centre of insensitivity and failing to understand the extreme difficulties faced by Tamils in Sri Lanka "who not only lost their livelihood but their rights as well." In his address on February 21, Mukherjee said, "We are making progress in our engagement with Sri Lanka, including in our efforts to resettle and rehabilitate the internally displaced persons there and to ensure a life of peace, dignity and equality for the Tamil people."
Sensing the belligerent anti-Lanka mood in the state, the DMK leader's tough posturing against the UPA government could well be aimed at assuaging Tamil sentiments, say political observers. While Karunanidhi is likely to continue to step up pressure on the Centre, at least until the March 15 UNHRC session when the US plans to move another resolution against Sri Lanka, there appears to be no real threat to the Congress-DMK alliance.
The DMK leader alleged that the Union government failed to recognize Sri Lankan President Mahinda Rajapaksa's double standards. When other countries have branded him as a war criminal for human rights violations and demanded that he be punished, the Indian government has refused to comprehend the real facts, maintaining (referring to the President's address) that engagement with Sri Lanka was only making progress, he said. "When will the Centre understand the real designs of Sri Lanka?" he asked.
Karunanidhi hit out at Rajapaksa, charging him with pretending to have concerns about the welfare of Lankan Tamils even while availing aid from India. Whatever financial assistance he got from India for the rehabilitation of Tamils was being diverted for the welfare of the Sinhalese, the DMK leader alleged. "Racism continues in the form of aggressive Sinhalisation – Tamil areas are being given Sinhalese names, temples are being demolished, encroachment of plots and houses of ethnic Tamils are rampant and they are being denied their traditional rights," he said. (Courtesy: The Times of India)