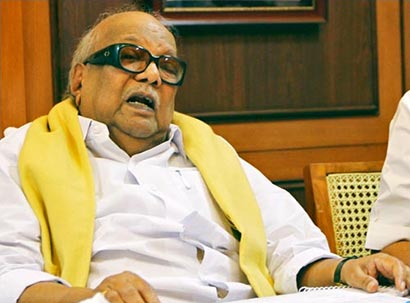 Onlanka News– Walter Jayawardhana
Copying exactly what his Tamil Nadu rival Chief Minister Jayalalithaa Jayaram did DMK leader Muthuvel Karunanidhi also announced that he would withdraw the lone DMK representative to go in the all party parliamentary group headed by Sushma Swaraj.
Accordingly a key UPA representative Rajya Sabha M.P.T.K.S.Elangovan will drop out of the delegation following the footsteps of  his rival Rajya Sabha MP W.Rabi Bernard.
So, the delegation coming to Sri Lanka will lack representatives of both major parties in Tamil Nadu.
Meanwhile Marumalarchi DMK Party leader Vaiko also has described the participation in the delegation as a useful effort.
"DMK never planned (to be part of the delegation). There are past experiences to show that there is no use of such visits. Therefore, nobody from DMK is undertaking the visit," he told reporters in Chennai.
Lok Sabha MP T.K.S. Elangovan, was the DMK's lone representative in the all-party delegation to be led by Leader of Opposition in the Lok Sabha, Sushma Swaraj.
Earlier, a delegation of DMK and Congress MPs from Tamil Nadu had visited Sri Lanka in 2010 and its members included Mr. Karunanidhi's daughter and Rajya Sabha MP Kanimozhi, T.R. Baalu (both from DMK) and Viduthalai Chiruthaigal Katchi founder Thol Thirumavalavan.