KARUNANIDHI SAYS BY UN INTERVENTION A REFERUNDUM SHOULD BE HELD TO CREATE EELAM
Posted by Editor on April 18, 2012 - 4:28 pm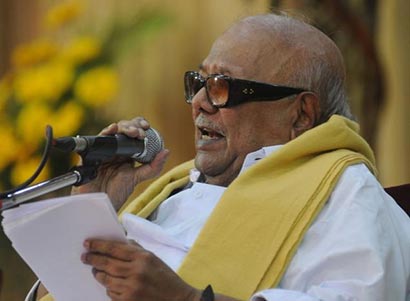 Onlanka News – By Walter Jayawardhana
Muthuvel Karunanidhi, the President of the of Drvaida Munetra Kazhagam (DMK) continued to embarrass the New Delhi Central government after rejecting to participate in the all party parliamentary delegation which is visiting Colombo now  also by declaring Tuesday in the party organ Murazoli that Sri Lanka should be divided and a new state called Eelam should be created under the intervention of the United Nations.
DMK is a constituent party of the coalition called United Progressive Alliance (UPA) which is running the New Delhi government headed by Primem Minister Manmohan Singh.
The Central government should press the United Nations to hold such a referendum amongst the Tamils, the DMK leader said.
The DMK leader said that many new countries had come into being following the U.N. intervention and referendum. The U.N. should take steps to conduct a referendum that could lead to the formation of 'Eelam.' "India should also put pressure on this issue."
Karunanidhi's statement is opposed to hundreds of diplomatic statements issued by the central government that it stands by the sovereignty and territorial integrity of the island nation.
Sajith Premadasa deputy leader of the opposition United National Party who met the Indian parliamentary delegation in no uncertain terms told them whatever political reforms brought in to the country's political system the unitary nature of the constitution cannot be touched.
Latest Headlines in Sri Lanka