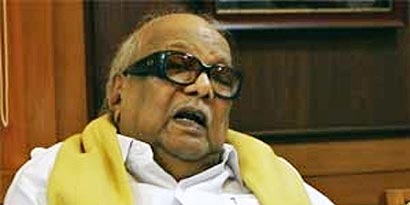 DMK president M. Karunanidhi opposed in the Indian Supreme Court the Centre's stand that Katchatheevu belonged to Sri Lanka in light of the 1974 agreement and said the sovereignty over the islet "was never with Ceylon but with India."
On Monday, the court granted Mr. Karunanidhi four weeks to file his rejoinder; but he filed his reply within a day of the hearing. He prayed that the islet be retrieved and the agreement declared null and void.
Mr. Karunanidhi said: "The status of Katchatheevu cannot be taken to have been settled by the 1974 agreement. Important historical documents and records prove that India's sovereignty over the islet was not taken into consideration while the so-called 'Agreement on the International Maritime Boundary line in historic waters between India and Sri Lanka and related matters' was signed in 1974."
He said the failure to follow the procedure mandated by the Constitution vitiated the agreement, which was neither legal nor constitutional. "Such an unconstitutional agreement cannot settle the status of Katchatheevu, nor could it cede the island to Ceylon."
Referring to the exchange of letters between the then Foreign Secretary, Kewal Singh, and W.T. Jayasinghe, Secretary to the Sri Lankan Ministry of Defence and Foreign Affairs, Mr. Karunanidhi said these letters did not give the agreement any legal sanctity. The letters said: "The fishing vessels and fishermen of India shall not engage in fishing in the historic waters, the territorial sea and the exclusive economic zone of Sri Lanka, nor shall the fishing vessels and fishermen of Sri Lanka engage in fishing in the historic waters, the territorial sea and the exclusive economic zone of India without the permission of Sri Lanka or India…"
The DMK president said: "A preponderance of evidence had been placed for the arrest and ill-treatment of fishermen from Tamil Nadu, apart from the indiscriminate firing by the Sri Lankan Navy and the resultant death of Indian fishermen, which had been widely reported in the media. The rights of Indian fishermen to carry on fishing in the historical waters of the Palk Strait and the Palk Bay have been recognised since time immemorial," The Hindu reports.