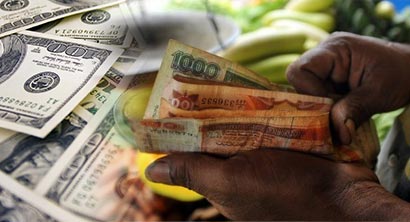 The Sri Lankan rupee climbed to its highest in more than a year on Tuesday, as inflows from remittances and exporter dollar sales surpassed dollar demand from importers.
State banks also lowered the dollar buying rate by two cents to curbed a sharp appreciation in the local currency.
The rupee traded at 130.18/19 per dollar at 0530 GMT, its highest close since June 28, 2013 and firmer than Monday's close of 130.20/22.
An official at the central bank told Reuters that it was buying from the market to curb excess volatility as there had been continuous inflows during the last few weeks. "It's the market sentiment the market sentiment as you are aware is drifting down, so that is also reflected in our accumulation from the market," an official at the central bank's international operations department told Reuters.
"If we have not intervened, the rupee would have ended at 125 (levels)." Dealers said the two state banks which the central bank directs to set the rate of the rupee bought dollars at 130.18 per dollar, two cents below Monday's rate.
The central bank had absorbed $750 million from the domestic foreign exchange market by July 14, the official said.
The central bank kept policy rates steady at multi-year lows for a sixth straight month on Monday, as expected, despite private sector credit growth slowing to a 4-1/2-year low.
The fuel import bill, which accounts for about 20 percent of monthly imports, is also on the decline as the country has been shifting to alternative power sources such as coal and hydro power, the dealers said.
The cost of fuel imports fell 35.4 percent in May to $208.9 million, compared with the same month a year earlier.
Sri Lanka's trade deficit narrowed by 47.9 percent to $393.4 million in May from $754.9 million a year earlier, mainly due to lower imports, central bank data showed on Monday.
Sri Lanka's main stock index was up 0.29 percent, or 19.69 points, at 6,718.72 by 0536 GMT — its highest since Oct. 10, 2011. Turnover was 1.08 billion Sri Lankan rupees ($8.30 million), with 26.2 million shares changing hands, Reuters reports.