Kiri Vehera Chief Incumbent's shooting: Five suspects arrested
Posted by Editor on June 18, 2018 - 7:51 am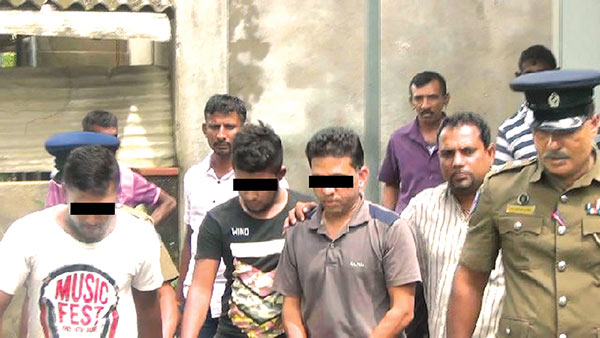 The Police have arrested five suspects in connection with the recent shooting of the Chief Incumbent of the Kataragama Kiri Vehera Raja Maha Viharaya, Ven. Kobawaka Dhamminda Thera and another monk.
The Police yesterday said the shooting had been carried out by two 18 year old hit-men hired by the main suspect Asela Bandara for Rs. three million.
A special Police team was able to arrest the main suspect of the shooting Bopegedara Asela Lakmal Bandara who had previously served as a custodian (Kapu Rala) of the Mahasen Devalaya at the temple along with two other suspects named Jayawickrama Kankanamge Nuwan Kumara and Jayawickrama Kankanamge Danushka Kumara on Saturday night at Pepiliyana.
Jayawickrama Kankanamge Nuwan Kumara and Jayawickrama Kankanamge Danushka Kumara were identified as 24-year-old twin brothers who assisted the main suspect in coordinating the attack.
The Police had also arrested the two suspects who are said to have carried out the shooting. They were identified as Marapathiranage Kawishka Dilshan (Kurulu) who was hiding in the jungle in the Wallimathagama area and Galwalagamage Hasan Anuradha (Malli) who was arrested in the Gaminipura area. Both these alleged shooters are residents of Gaminipura in Katharagama and are 18-years-old.
The Police said they had found the firearm used by Kawishka Dilshan dumped near the Manik Ganga in the Gaminipura area while another 'Galkatas' rifle used by Hasan Anuradha was also found in a jungle in the Gaminipura area.
Police Spokesperson SP Ruwan Gunasekara stated that Asela Bandara had promised Rs. 3 million to the two shooters for carrying out the attack.
"Investigations were conducted by eight special Police teams under the supervision of IGP Pujith Jayasundara. These Police teams are working further to investigate the involvement of the suspects involved in the incident," SP Gunasekara stated.
Ven. Kobawaka Dhamminda Thera was shot in the temple premises at around 10 p.m. on June 12 while another monk who was with the Chief Incumbent, Ven. Dhamminda Thera also received gunshot wounds.
The two monks were admitted to the Kataragama Hospital and later transferred to the Hambanthota General Hospital.
Later, Ven. Dhamminda Thera was flown to a private hospital in Colombo for further treatment.
(Source: Daily News – By Feron Jayawardene and Duminda Senerath)
Latest Headlines in Sri Lanka