Language plays pivotal role in social integration: SL speaking language of peace – President
Posted by Editor on October 18, 2011 - 8:51 am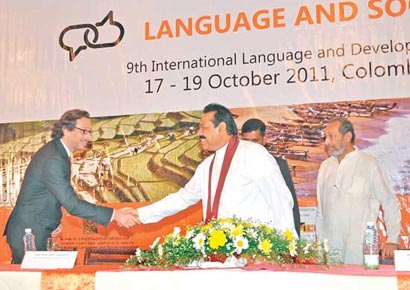 Sri Lanka is speaking the language of peace after decades of conflict that affected thousands of Sri Lankans of all communities, said President Mahinda Rajapaksa addressing the 9th International Language and Development Conference in Colombo yesterday.
He said the government's primary focus is to ensure that all citizens of the country irrespective of their ethnicity learn the three main languages to forge closer ties with each other.
The President while reiterating that Sri Lanka is committed to safeguard the language rights of the people, pointed out that the country is in the process of being transformed into a trilingual society where English will be the link language.
President Rajapaksa said Sri Lanka is becoming a destination of business, leisure and tranquillity after the end of 30 years of conflict.
He added that holding this kind of conference in Sri Lanka proves that peace prevails in the country.
The President said language is a means of communication and understanding.
"We have experience that language can also be an instrument of division and conflict. This conference with its theme, 'Language and Social Cohesion,' will have special relevance to Sri Lanka, as it would also be of much value to other countries of the developing world.
"Sri Lanka has implemented a policy that enables to use language to bind our people together," he added.
He said advances of language teaching should be utilized to promote language knowledge among the people as language skills play a pivotal role for economic development and social mobility.
President Rajapaksa also pointed out that language plays a pivotal role in the field of social integration and the government has implemented a special policy for English and IT education towards this end.
He said government declared 2009 as the year of English and IT. "English would also be the vehicle for our children to access knowledge as we envisage to become a knowledge hub in the region," he added.
The 9th International Language and Development Conference is hosted by the Ministries of National Languages and Social Integration, and Education, German Technical Cooperation (GTZ) and the British Council's Project English.
The three-day forum, attended by delegates and experts in the field of language from 17 countries, will become a platform to discuss and learn innovations in language and social cohesion field.
It will also focus on building a collective outcome in a participatory way.
Courtesy: Daily News
Latest Headlines in Sri Lanka