Lankan authorities deny placing Canadian MP under house arrest
Posted by Editor on January 1, 2014 - 2:38 pm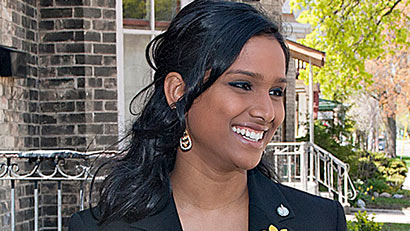 Sri Lankan authorities have denied reports that Canadian NDP MP Rathika Sitsabaiesan was placed under house arrest during her reported fact-finding mission in Sri Lanka.
The Canadian MP is currently engaged in a visit to Jaffna where she is visiting her home while media reports in Sri Lanka indicated that she was placed under house arrest by the government.
Canadian media reported that she had been arrested by the Terrorist Investigation Department while Canadian Minister of State for Foreign Affairs Lynne Yelich tweeted late Tuesday night that "Sri Lankan authorities have clarified with us there is no arrest warrant" for Sitsabaiesan. "We will continue to follow closely until she is home."
The Sri Lankan Army Spokesman, Brigadier Ruwan Wanigasooriya told Ada Derana that the security forces had neither imposed house arrest on the MP nor issued any arrest warrant against her.
The 32-year-old Rathika Sitsabaiesan became the first Sri Lankan-born woman to be elected to the Canadian parliament on December 23, 2013.
(Courtesy: Ada Derana)
Latest Headlines in Sri Lanka