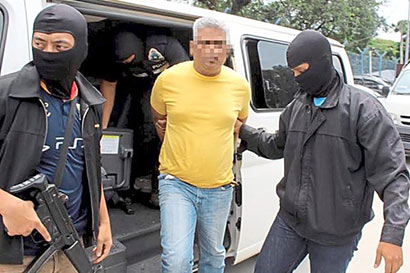 Dangerous suspect: Special Branch officers taking the suspected terrorist into custody. Photo courtesy the Star
The Malaysian Bukit Aman Special Branch counter-terrorism division has helped thwart a planned attack on foreign consulates in India with the arrest of four suspected terrorists including a Sri Lankan.
One of them, a Sri Lankan man, was detained at a house in Kepong at about 11.15am on Wednesday. The other three suspects were arrested in Chennai by Indian authorities based on information supplied by the counter-terrorism division.
The Sri Lankan, who has been indirectly linked to al-Qaeda, is on the wanted list for alleged terror activities in Sri Lanka and other countries. Police believe that he had a terrorist network in Malaysia involving foreigners, a source said.
The source said the man had been hiding in Malaysia since 2011. Police began tracking his movements since December last year, monitoring his activities and contacts, the source said.
He had used a fake passport to enter Malaysia. The source said the man had been planning various attacks on foreign soil but Malaysia was not a target. Police would wait for extradition requests from other countries before deporting the suspect. Deputy Inspector-General of Police Datuk Seri Mohd Bakri Zinin confirmed the arrest.
"We will continue to work with foreign agencies to prevent attacks in the region as well as globally," he said. It is learnt that the arrests in Chennai began with a Sri Lankan national on April 29 following a coordinated operation involving various countries, including Malaysia.
The Sri Lankan is suspected of trying to recruit people for terror activities. He had previous arrests in Bangkok and Singapore, a source said. A day later, two of his accomplices were picked up in Chennai, the Star reports.