Lankans among 75 feared dead; Aussie bound boat capsizes with asylum seekers in Indonesian waters
Posted by Editor on June 22, 2012 - 6:20 am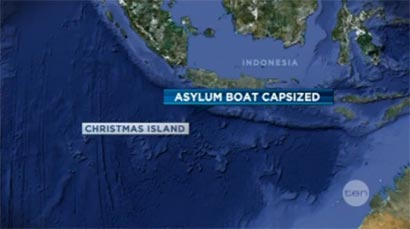 About 75 asylum seekers including SriLankana are feared dead in a mishap where a boat carrying 200 asylum seekers, capsized in Indonesian waters.
More than 40 persons were found clinging on to the upturned boat bound for Australia having set out from Sri Lanka, according to agency reports.
External Affairs Ministry's Director General of Public Communications Sarath Dissanayake told The Island last night that he had been in contact with both the Sri Lankan High Commissioner in Canberra Retired Admiral Thisara Samarasinghe and Ambassador to Jakarta Nanda Mallawarachchi. The latter had informed him that over 100 persons had been rescued and over 50 bodies recovered.
However, they were yet to identify the bodies, Mallawarachchi had said.
"We are monitoring the developments," Dissanayake said.
Maritime drama began to unfold after 3.00 pm (AEST) yesterday when an Australian Customs and Border Protection surveillance  plane spotted a vessel 'in distress' 200km north of Christmas Island.
The observers immediately contacted Indonesian authorities, who were leading the rescue efforts alongside the Australian Navy, Defence and Customs.
About 200 people are believed to have been on board. West Australian Police Commissioner Karl O'Callaghan was quoted by the international media as having said that about 40 people had been spotted on the upturned hull, others were in the water and up to 75 others were feared dead.
Courtesy: The Island
Latest Headlines in Sri Lanka