Gaddafi killed
Posted by Editor on October 20, 2011 - 6:59 pm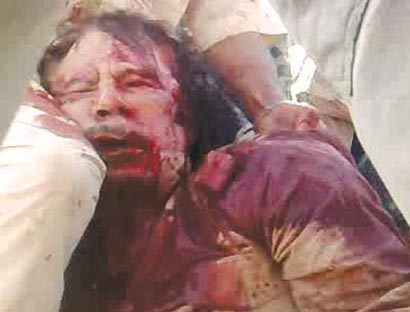 Muammar Gaddafi is dead, Libya's new leaders said, killed by fighters who overran his home town and final bastion on Thursday. His bloodied body was stripped and displayed around the world from cellphone video.
Senior officials in the interim government, which ended his 42-year rule two months ago but had laboured to subdue thousands of diehard loyalists, said his death would allow a declaration of "liberation" after eight months of bloodshed.
"We confirm that all the evils, plus Gaddafi, have vanished from this beloved country," Prime Minister Mahmoud Jibril said in Tripoli as the body was delivered, a prize of war, to Misrata, the city whose siege and suffering at the hands of Gaddafi's forces made it a symbol of the rebel cause.
"It's time to start a new Libya, a united Libya," Jibril added. "One people, one future." A formal declaration of liberation, that will set the clock ticking on a timeline to elections, would be made by Friday, he said later.
Western leaders, who had held off cautiously from comment until Jibril spoke, echoed his sentiments now that Gaddafi, a self-styled "king of kings" in Africa whom they had lately courted after decades of enmity, was dead at 69.
British Prime Minister David Cameron, who with French President Nicolas Sarkozy was an early sponsor of February's revolt in Benghazi, said: "People in Libya today have an even greater chance after this news of building themselves a strong and democratic future."
The new national flag, resurrected by rebels who forced Gaddafi from his capital Tripoli in August, filled streets and squares as jubilant crowds whooped for joy and fired in the air.
In Sirte, a one-time fishing village and Gaddafi's home town that grandiose schemes had styled a new "capital of Africa", fighters danced, brandishing a golden pistol they said they had taken from Gaddafi.
Accounts were hazy of his final hours, which also appeared to have cost the lives of senior aides. But top officials of the National Transitional Council, including Abdel Majid Mlegta, said he had died of wounds sustained in clashes.
One possible description, pieced together from various sources, suggests that Gaddafi may have tried to break out of his final redoubt at dawn in a convoy of vehicles after weeks of dogged resistance. However, he was stopped by a NATO air strike and captured, possibly three or four hours later, after gun battles with NTC fighters who found him hiding in a drainage culvert.
NATO said its warplanes fired on a convoy near Sirte about 8:30 a.m. (0630 GMT), striking two military vehicles in the group, but could not confirm that Gaddafi had been a passenger. Accounts from his enemies suggested his capture, and death soon after from wounds, may have taken place around noon.
One of Gaddafi's sons, heir-apparent Saif al-Islam, was at large, they believed. NTC official Mlegta told Reuters that he was surrounded after also trying to flee Sirte. Another son, Mo'tassim, whose arrest was announced earlier in the day, had been killed resisting his captors, Mlegta added.
Reuters
Latest Headlines in Sri Lanka