LLRC report covers all relevant ground – Australian MP
Posted by Editor on December 31, 2011 - 6:53 am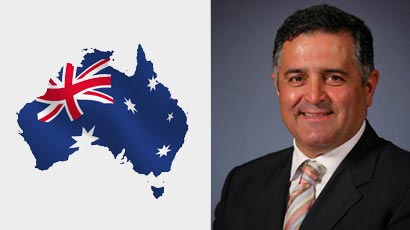 The Lessons Learnt and Reconciliation Commission (LLRC) report sets the framework for practical reconciliation in Sri Lanka, said Australian Member of Parliament Telmo Languiller who is on a brief visit to look into the ground situation in post war Sri Lanka.
Addressing a media conference in Colombo yesterday he welcomed both the LLRC report and the government's response to it, stating that these provide a very good opportunity for Sri Lanka to build a peaceful country. He observed that the report has covered all relevant aspects and has included the comments of all relevant parties concerned. He also stated that it was a very good step in the right direction.
Referring to the statement by Leader of the House and Irrigation and Water Resources Management Minister Nimal Siripala de Silva when tabling the report in Parliament, Languiller commended the government's willingness and readiness to carry out independent investigations over the each and every incident with regard to human rights issues.
He said that he would encourage the Australian government and his Parliamentary colleagues to continue to work positively with the authorities in Sri Lanka and its people, and to support the government's endeavour to rebuild post war Sri Lanka.
He observed that there is a massive improvement in the infrastructure facilities in the country compared with the situation during his previous visit about two and half years ago.
He noted that there is huge progress in the construction of roads, bridges, houses, hospitals and schools in places he visited, especially in Jaffna.
He said that the improvement of infrastructure in the country would help to attract more investments. Speaking on the challenges that lie before Sri Lanka, he observed that Sri Lanka should sort out the human rights allegations leveled against it before next Geneva Human Rights Council session in March.
He noted that working towards practical reconciliation and a political solution to the national issue which can be acceptable to all communities while achieving economic development should be given high priority. Responding to a question by a journalist he also said that from his meetings with high ranking army personnel in the North, he was convinced that the forces would not be stationed in those regions permanently and that they were willing to move as soon as possible.
During his visit Languiller also met the Defence and Urban Development Ministry Secretary, Gotabhaya Rajapaksa the External Affairs Ministry Secretary and many high ranking officials of the government.
The visit was organized by Sri Lankan expats in Australia.
Courtesy: Daily News
Latest Headlines in Sri Lanka