Sri Lanka's PM commends China for strong support
Posted by Editor on December 31, 2011 - 9:39 pm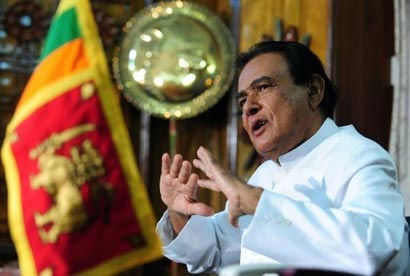 COLOMBO, Dec. 31 (Xinhua) — Sri Lanka's Prime Minister D. M. Jayaratne said Sri Lanka appreciates China's long-standing support and his government will further developing its relations with China.
Sri Lanka sees China as a close friend and will work with China to strengthen the bilateral ties in all areas, Jayaratne made the remarks in an exclusive interview with Xinhua at his official residence recently.
Jayaratne recalled the long relations between Sri Lanka and China that began over a thousand years ago with the arrival of Chinese monk Fa Xian.
He said Sri Lanka is one of the first countries supporting China's UN membership. He said China and Sri Lanka signed the historic Rubber-Rice Pact in 1952 bringing many benefits to the peoples of the two nations, and the two countries formally established diplomatic relations in 1957 and the bilateral ties have developed steadily since then.
Jayaratne said he had accompanied former Prime Minister Sirimavo Bandaranaike to visit China decades ago and met Chairman Mao Zedong. During the visit, China promised to help build an International Conference Center in Sri Lanka.
The prime minister said the International Conference Center, namely Bandaranaike Memorial International Conference Hall together with the recently opened National Performing Art Theater in Colombo have stood as a symbol of the friendship between China and Sri Lanka.
The on-going projects assisted by China, including Norochcholai Coal-Powered Power Project, Hambantota Port, Maththala Airport and highways in the south would give a boost to Sri Lanka's economy, said Jayaratne.
He said that China has always supported Sri Lanka, especially on the issues related to the question of Sri Lanka's Sovereignty and Territorial Integrity. The Sri Lankan leadership has always appreciated China's steadfast support on issues of their concern.
"We are very grateful to China for always standing beside Sri Lanka, especially during times when the west was criticizing the government for ending a three decade war. China is Sri Lanka's largest benefactor supporting many infrastructure programs that are crucial for our development," he said.
Jayaratne said the year 2012 is coming, he wrote an inscription wishing the Chinese people a happy and prosperous new year.
Source: Xinhua
Latest Headlines in Sri Lanka