LLRC Report will reveal the truth – President
Posted by Editor on October 26, 2011 - 9:00 am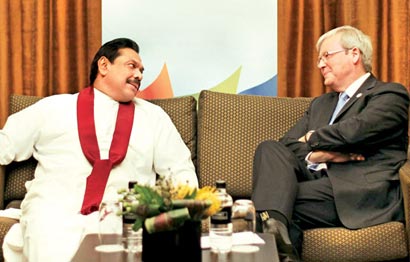 President Mahinda Rajapaksa said that the truth behind Sri Lanka's humanitarian operation would be revealed once the Lessons Learnt and Reconciliation Commission Report is out. "Very soon, the LLRC Report will be out.
'It will then be presented in Parliament. People would then be able to find out the truth," the President said when he addressed a Sri Lankan community reception held at the Winthrop Hall of the University of Western Australia here in Perth Tuesday. The President said that some people are making a desperate attempt to mislead the international community.
They are trying to do this by fabricating stories and making false allegations against Sri Lanka. "We will not hide anything. The truth will be disclosed soon. I have been voicing in support of human rights since I first entered the Parliament in 70s. Then in the late 80s, we even took to streets, to protect human rights. But today, certain people are trying to pontificate to us on human rights," he said.
He urged Sri Lankans to protect their mother tongue and culture, irrespective of their ethnic and religious origins. "Teach Sinhala and Tamil to your children though you live in another country. If not, your children will only have Sinhala names, though they are not real Sinhalese. They will have Tamil names though they are not real Tamils. Always protect your mother language," he said.
He stressed the need to protect Sri Lanka's 2,500-year-old rich culture. "It is your responsibility to protect it and preserve it for the next generation. Protect the rich values we have been maintaining as Sri Lankans," he added.
He requested Sri Lankan expatriates to think seriously of returning to their motherland at least for a few years to serve the nation which now enjoys rich dividends of peace. "When I was first elected President in 2005, my biggest challenge was terrorism. Our battle against the LTTE was only against a ruthless terrorist outfit and not against any race or religion. We tried to talk to the LTTE in order to settle the issue though a dialogue but they walked off the negotiating table," he said.
Outlining the circumstances which forced him to order the Security Forces to eradicate terrorism after the LTTE deprived innocent civilians of their basic human need of water at Mavil Aru, the President said Sri Lanka has made steady progress since becoming the first country to eradicate terrorism.
"We not only resettled over 300,000 displaced people in record time but also ensured their future by developing those areas in the North and the East. When the recent floods affected food crops in the Central Province, it is those cultivations of those resettled in the North and the East that came in handy," the President said.
President Rajapaksa added that Sri Lanka is heading towards new economic horizons since the eradication of terrorism, developing infrastructure, especially in the North and East. "Our target is to supply drinking water to all.
The largest water supply project in the country after Colombo, was inaugurated in Batticaloa. Similarly, we are geared to face future challenges in power requirements with projects, such as, Kerawalapitiya, Upper Kotmale, Norochcholai and Sampur," he said.
The President said Colombo now looks clean and beautiful, as any other major city in the world. "When you return to Colombo now, you will not see the smelly and ugly capital any more. Instead, we have developed it to be a clean and green city of which all Sri Lankans could feel proud of," he said.
He thanked the Australian government for the support it has extended to Sri Lanka. Minister of External Affairs Prof G.L. Peiris, Minister of Sports Mahindananda Aluthgamage, Deputy Minister of External Affairs Neomal Perera were also present.
Earlier, Sri Lanka's High Commissioner in Australia, Admiral Thisara Samarasinghe welcomed the President and said that the Sri Lankan community in Australia is delighted to receive the President who has given illustrious leadership to the country's battle against terrorism.
Courtesy: Daily News
Latest Headlines in Sri Lanka