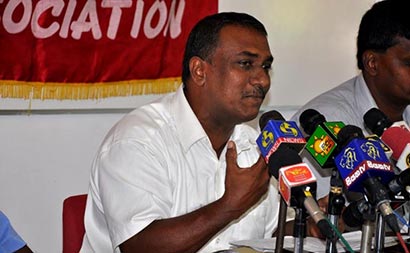 Lanka Private Bus Owners' Association President Gemunu Wijeratne while vehemently opposing the minimum traffic fine increase up to Rs. 2500, however said the LPBOA will talk to the Finance Minister to iron out the issue.
If talks fail. Wijeratne warned that the LPBOA and other private bus owners associations may launch an island wide strike, starting tomorrow.
"A meeting will be held with all Private bus Associations regarding the bus strike. The final decision shall be made based on this discussion. Minister Ravi Karunanayake has also requested a discussion with us. We will try our best to reach an amicable settlement," he added.
Taking on the accusation that private buses were allegedly causing more accidents on the roads which demands disciplinary measures, Wijeratne vehemently rejected the charge saying the idea was a huge misconception. "This accusation is far fetched. One should realise that this fine is not only for private buses but for all vehicles. If one conducts an analysis on the road accidents caused by vehicles, it will reveal that accidents caused by private buses are comparatively low," he explained.
"This misconception on private buses causing more road accidents came out regarding a matter with speed limitations on the roads. A fine for speeding can only be charged on the highways in Sri Lanka. Speed limitations for other roads are not included in the gazette, nor any sign boards are available on the roads. It is the responsibility of the government to work on these shortcomings. We challenge the government to increase the fine even to Rs. 25,000, if only they could properly develop this transportation system in Sri Lanka." Wijeratne said.
The prevailing statistics on fatal accidents caused by vehicles, between January to September, 2016 reveals that private buses are fifth in list.
The private buses have caused 115 accidents killing 123, whereas motorbicycles, first in the list, have caused 864 fatal accidents with a death toll of 901.
Lorries, three-wheelers and vans follow causing 253, 278 and 133 fatal accidents, killing 262, 299 and 153 victims.
According to the statistics, an overall 2,085 fatal accidents have been caused by vehicles on road, leading to a death toll of 2,202.
(Source: Daily News – By Amali Mallawaarachchi)