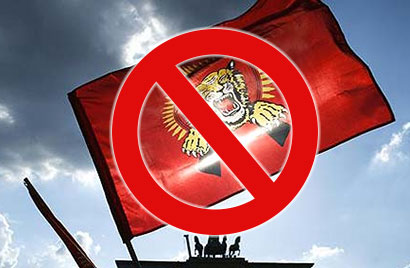 LTTE and 15 other LTTE fronts have been banned by the GOSL under UN Security Council Resolution 1373 w.e.f 1st April 2014. The order signed by External Affairs Minister Prof. GL Pieris based on recommendations by the Secretary Ministry of Defence and Urban Development as the Competent Authority will hereafter regard persons, groups and entities as committing, attempting to commit, facilitate or participate in the acts of terrorism. The order enables funds, assets, economic resources belonging to or owned by the designated persons and entities to remain frozen until the removal of their names from the designated list. These persons and entities are prohibited from moving, transferring or dealing with frozen assets without the permission of the Competent Authority. The seriousness of the Order needs to now be conveyed to nations where these foreign terrorist organizations and persons are now domiciled. It is now the turn for the diplomatic war to begin and Sri Lanka needs to appraise its envoys on how to take on the next battle.
The Foreign Terrorist Organizations with the gazette notification numbers are:
Liberation Tigers of Tamil Eelam a.k.a LTTE a.k.a Tamil Tigers – EN/CA/2013/01
Tamil Rehabilitation Organization a.k.a TRO. – EN/CA/2013/02 (Sri Lanka & Overseas)
Tamil Coordinating Committee a.k.a TCC – EN/CA/2013/03
British Tamil Forum a.k.a BTF – EN/CA/2013/04 (Operating from London, UK)
World Tamil Movement a.k.a WTM – EN/CA/2013/05 (Operating from Canada)
Canadian Tamil Congress a.k.a CTC – EN/CA/2013/06 (Operating from Canada)
Australian Tamil Congress a.k.a ATC – EN/CA/2013/07 (Operating from Australia)
Global Tamil Forum a.k.a GTF – EN/CA/2013/08 (Operating from UK)
National Council Of Canadian Tamils a.k.a NCCT a.k.a Makkal Avai – EN/CA/2013/09 (Operating from Canada)
Tamil National Council a.k.a TNC – EN/CA/2013/10 (Operating from Norway, Italy , Switzerland, France, Canada.)
Tamil Youth Organization a.k.a TYO – EN/CA/2013/11 (Operating from Australia)
World Tamil Coordinating Committee a.k.a WTCC. – EN/CA/2013/12
Transnational Government Of Tamil Eelam a.k.a TGTE – EN/CA/2013/13
Tamil Eelam Peoples Assembly a.k.a TEPA – EN/CA/2013/14
World Tamil Relief Fund a.k.a WTRF – EN/CA/2013/15
Headquarters Group a.k.a HQ Group – EN/CA/2013/16
The above categorized Foreign Terrorist Organizations are led by the following 4 key individuals.
Perinbanayagam Sivaparan alias "Nediyavan";
Rev.Fr. SJ Emmanuel
Visuvanathan Ruthirakumaran
Sekarampillai Vinayakamoorthy alias Vinayagam
LTTE ban
1992 – India was the first to ban LTTE following the assassination of Rajiv Gandhi.
1997 – USA banned LTTE as a Foreign Terrorist Organization on 8 Oct 1997 and
1998 – Sri Lanka bans LTTE following LTTE attack on Dalada Maligawa, Kandy
2000 – UK designated LTTE as a Proscribed Terrorist Group under the UK Terrorism Act of 2000
2001 – USA designated LTTE as a Specially Designated Global Terrorist organization since 2 Nov 2001
2006 – EU (Council of the European Union) comprising 28 nations declared LTTE as a Terrorist Organization on 17 May 2006 (Austria, Beligum, Bulgaria, Croatia, Cyprus, Czech Republic, Denmark, Estonia, Finland, France, Germany, Greece, Hungary, Ireland, Italy, Latvia, Lithuania, Luxemberg, Malta, Netherlands, Poland, Portugal, Romania, Slovakia, Slovenia, Spain, Sweden & UK
2006 – Canada
2009 – Sri Lanka 7 January 2009  (Note the ban placed in 1998 was removed by the Ranil Wickremasinghe Government on 4 January 2002 to facilitate the infamous Ceasefire Agreement)
With the banning of LTTE and associated LTTE fronts we can finally sigh a relief that the Government has done what should have been done immediately following the May 2009 victory.
The order now issued necessitates that Sri Lanka reviews the foreign bans in place by US, EU nations, UK and Canada for there are key provisions under their laws that can enable Sri Lanka to press these foreign governments to take action against the individuals and entities now declared banned.
For instance, the 2006 ban by Canada declares that it will not grant residency to LTTE members on the grounds that they have participated in crimes against humanity. This should immediately demand that Sri Lanka's envoy takes out these declarations and pursue action against every member now officially banned. If these foreign Governments have banned LTTE they must be asked to follow through on what they have legally passed. Therefore, Sri Lanka's envoys need to be immediately summoned to Colombo and given a brief on what they need to now do.
Since Australia remains the only country not to have banned LTTE, it is for Sri Lanka's envoy to rigorously pursue Australia showcasing the activities of the LTTE and fronts in Australia as well as the fact that two of the organizations declared banned is the Tamil Youth Organization and the Australian Tamil Congress. These are all leverage areas that Sri Lanka's envoys need to now tap.
It is in such times that we can but look at the performance of Pakistan's Zamir Akram and the eloquent manner he delivered why the US Resolution against Sri Lanka is rejected. His speech was one par excellence and the points covered were relevant to all nations under imperial oppression today. Sri Lanka's envoys must similarly deliver on the lines of how Zamir Akram spoke for not only did he make Pakistan proud, the entire population of Sri Lanka wished to congratulate him on how he defended Sri Lanka. Sri Lanka too needs more Zamir Akram's to defend the nation now that the GOSL has taken a quintessential stand. We have had advisors and consultants who were eloquent but their heart is and never was in protecting the country rather than bloating their inflated egos trumpeting their own achievements only. The GOSL would need to seriously address how many amongst their fold are really interested to help protect the unitary, sovereignty and territorial integrity of the nation and the dangers of keeping such people based on the premise that keeping one's enemy close and fulfilling their personal desires would keep them silent.
There is much that the diplomatic force needs to do and this calls for proactive and energetic lobbying among both Government and Opposition members in the country's they represent. With these countries banning the LTTE they have in their own legally given provision for freeze on assets, prohibition of funds disbursement, travel bans etc and none of the present lot of LTTE fronts having complimentary passes to walk into the Parliaments of these nations without security clearance should be allowed to now enter. They must be promoted as terrorists and the Sri Lankan envoys now need to get their act together. There is no requirement to be hire fancy PR company's or foreign agencies to handle communications, Sri Lanka's diplomats have a very enthusiastic and energetic expat community who have over the years voluntarily stood for Sri Lanka while the diplomatic force had been lethargic in their approach. It is no better a time than now to also utilize them and generate the communication channels needed to ensure that the present lot of LTTE fronts and their leaders no longer enjoy VVIP status among foreign parliamentarians. Moreover, many of these leaders and members are probably holding foreign passports in which case the legal luminaries will need to also consider how best to push these foreign governments to pursue legal action against them for role in terrorism.
The task ahead for the Sri Lankan External Affairs Ministry and its officials is an important one and the approach cannot be defeatist, knee-jerk or defensive. We cannot pursue an 'unwinnable' mentality mode.
It is thus suggested that the envoys are appraised on the statements that need to be delivered, the manner that the envoy and officials need to pursue the officials of the nations they represent, what to say and what not to say, how to say and the most important aspect of conveying to these officials, the public in these countries that these entities besides being designated as terrorists have over decades being swindling them through various forms of international illegal activities – credit card scams, penetrating the social welfare systems, manipulating the refugee status, human smuggling, global prostitution etc are just a handful of activities that these organizations have been involved in. It is now time for Sri Lanka's envoys to take these dossiers and produce them before the foreign parliamentarians and demand that they take action for afterall it is these nations that are insisting that rule of law, due process etc prevails so they must be asked to show by example.
Shenali D Waduge