LTTE threat for Indian VVIPs; Ministry sends alert messages: Training at 'unknown location':
Posted by Editor on February 14, 2011 - 9:15 am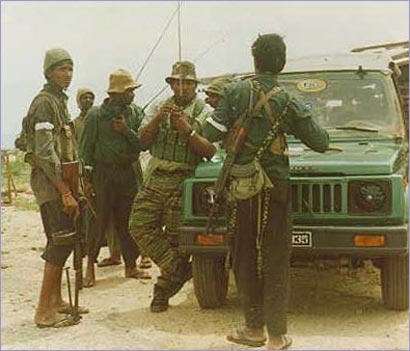 Indian Central intelligence agencies have communicated specific inputs to the Tamil Nadu police that suspected Liberation Tigers of Tamil Eelam (LTTE) cadres had conspired to carry out attacks on VVIPs during forthcoming Assembly elections.
Highly placed intelligence sources confirmed to The Hindu Saturday that the Home Affairs Ministry had sent alert messages that some LTTE cadres had arrived in Tamil Nadu and were engaged in a training program at an "unknown location." They were in the process of procuring weapons and explosive substances to execute their plan. While claiming that LTTE men in the custody of the Sri Lankan Army had revealed "significant" presence of their cadre at Valasaravakkam in Chennai, the sources said some prominent members of the LTTE's finance and air wings had sneaked into the State.
Members of the outfit's suicide squad had reached Nagercoil in the guise of refugees accompanying aged or injured Sri Lankan Tamils. Clandestine sailings of the LTTE and frequent arrival of refugees with the help of illegal boat operators had exposed the vulnerability of the Tamil Nadu coast, the sources said.
"We received a few alert messages from Central intelligence agencies during the World Classical Tamil Conference held at Coimbatore and the visit of Prime Minister Manmohan Singh to Chennai recently.
"Elaborate security arrangements were made and both events went incident-free. We intercepted a couple of clandestine boat operators who organized transport of Sri Lankan Tamil refugees to Australia," a senior police officer said.
Ruling out the possibility of LTTE cadre regrouping in Tamil Nadu, he said there was information about some "ex-Tigers organizing human smuggling (of Sri Lankan Tamils staying in Tamil Nadu as refugees) to Christmas Islands (Australia) or Canada."
Tamil Nadu Director General of Police Letika Saran said there was no presence of LTTE cadre in the State. "We take every alert message seriously…police investigate and go into the finer details of every input. The Coastal Security Group police are in constant touch with 'village vigilance committees' and will know of any suspicious activity along the coast."
Some probable targets of the LTTE, as perceived by the Central intelligence agencies, are the Prime Minister, National Security Advisor and the Tamil Nadu Chief Minister, among others, the sources said. "As of now there is no specific input indicating any design of VIP security or internal security implications…there are general inputs which are being followed up," Additional Director General of Police (Intelligence) M S Jaffar Sait said.
Courtesy: Daily News
Latest Headlines in Sri Lanka