LTTE TORTURED AND KILLED CASUALLY, SAYS FORMER WOMAN TIGER IN NEW BOOK
Posted by Editor on July 15, 2012 - 2:46 pm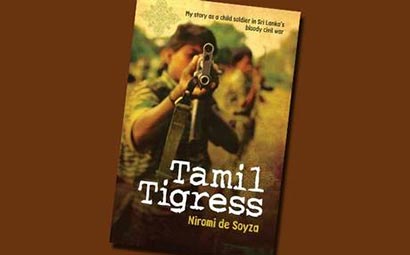 Onlanka News – by Walter Jayawardhana
The Hindu quoted a former LTTE girl fighter Niromi de Soyaza who recently published a book as telling the LTTE tortured and killed alleged spies and "traitors" and also looted Tamil shops and homes while fighting the Indian peacekeepers in Sri Lanka.
Niromi de , who joined the Liberation Tigers of Tamil Eelam (LTTE) in early 1987 at age 17 and now lives in Australia, says she quit the group after realising that violence cannot lead to a Tamil Eelam state.
One afternoon, in Sudhumali in Jaffna, Niromi and her Tiger friends saw some of their male colleagues kick and punch a teenage LTTE member, Vellai, even as he kept muttering "I didn't do it, I didn't do it,"the book further revealed according to the Hindu.
"Accusing him of being an Indian spy, Vellai was buried up to his shoulder, forced to "swallow cyanide, to see what it did to him", says the 308—page book, "Tamil Tigress" (Mehta Publishing House)."
Finally, an LTTE guerrilla, Justin, dealt a blow on the victim's skull with an axe.
"Niromi says of the killers: "The boys burst out laughing… For them, killing Vellai was no different to killing a cockroach."
"Later, in a jungle camp in the Vanni region in Sri Lanka's north, the LTTE's then number two, Mahattaya, shot dead an 18—year—old guerrilla, Shanthan, for falling in love with a woman colleague."
After seeing similar harshness in the group, Niromi began to question the ethics under which LTTE commanders operated. Going by the book the Hindu report claimed..
"From top to bottom in our organization, everyone did whatever they pleased so long as they could justify it as being for the good of the (LTTE). I had not been prepared for this."
On many occasion, LTTE guerrillas looted shops of footwear, sanitary napkins, shampoos and chocolates.
Indian soldiers deployed for peacekeeping took the blame for such looting, she says.
Latest Headlines in Sri Lanka