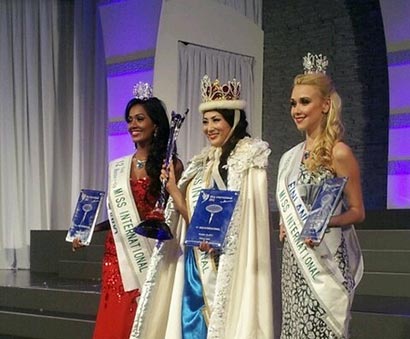 Madusha Mayadunne became the 2nd runner up at the 52nd Miss International 2012 pageant held in Okinawa, Japan.
Fernanda Cornejo from Ecuador crowned her successor Ikumi Yoshimatsu from Japan at the end of the event, a glittering ceremony held at Okinawa Prefectural Budokan Arena Building.
"I'm very thankful to everybody in Sri Lanka for giving me this opportunity to be here today and representing Sri Lanka and winning this tonight," Mayadunne said.
"I dedicate this to my parents, for all the support they have given me in life and so far in this pageant. Thank you," she said speaking to Ada Derana following the Miss International beauty pageant, which intends to promote world peace, goodwill, and understanding.
Miss Japan Ikumi Yoshimatsu bested 68 lovely ladies from all over the globe in the 52nd edition of Miss International to get the night's most coveted crown. It was a proud moment for her as she was crowned in front of her countrymen being the first Japanese to wear the Mikimoto crown.
Miss friendship was won by Ameeksha Dilchand of Mauritius, Best in Talent was awarded to Russia's Ekaterina Meglinskaia, Nicole Velasquez of Honduras was adjudged Best In national Costume while Miss Photogenic was also won by Japan.
Mayadunne was among the fifteen finalists including Colombia, Brazil, Japan, Finland, Namibia, Venezuela, Uk, USA, Dominican Republic, Philippines, Paraguay, Mexico, India and Haiti.
Winners
– Miss International 2012: Miss Japan, Ikumi Yoshimatsu
– The first runner-up: Miss Finland, Viivi Suominen
– The second runner-up: Miss Sri Lanka, Madusha Mayadunne
– The third runner-up: Miss Dominican Republic, Melody Mir Jiménez
– The fourth runner-up: Miss Paraguay, Nicole Huber
Miss International Top 15
– Brazil, Rafaela Butarelli
– Colombia, Melissa Varon
– Haiti, Anedie Azael
– India, Rochelle Maria Rao
– Mexico, Jessica Garcia Formenti
– Namibia, Paulina Malulu
– Philippines, Nicole Cassandra Schmitz
– United Kingdom, Alize Lily Mounter
– USA, Amanda Renee Delgado
– Venezuela, Blanca Aljibes