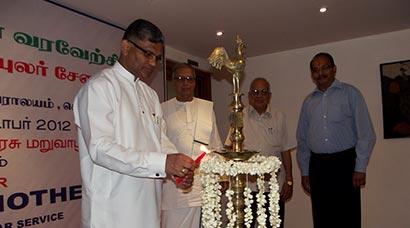 The Office of the Deputy High Commission of Sri Lanka in Chennai conducted a Special Consular Service for Sri Lankans living in Tamil Nadu refugee camps on Saturday the 20 th October 2012 at the Chancery premises.
This was the very first event to be held at the new Chancery premises which was opened on 20 th September 2012.
The facilitation of return of Sri Lankan refugees from Tamil Nadu is viewed as an important part of the reconciliation programme that has been launched in post-conflict Sri Lanka. Accordingly, this Special Consular Service was conducted as part of the preparatory process of the prospective returnees to the motherland.
Inaugural ceremony was attended by Hon. B S Gnanadesikan, Member of Rajaya Sabha and President of the Tamil Nadu Congress Committee and Hon. T K Rangarajan, Member of Rajya Sabha of Communist Party of India (Marxist), along with around 300 people including the representatives from media and think-tanks. During the event, 149 Citizenship Certificates, 50 passports and 59 Birth Certificates were handed over to the Sri Lankan Refugees living in Tamil Nadu by the Deputy High Commissioner, Amb. R.K.M.A. Rajakaruna.
Amongst the Sri Lankan children born in Tamil Nadu refugee camps, there are thousands of births yet to be registered under the Consular Functions Act of Sri Lanka and Citizenship Certificates to be issued accordingly. Possession of such documents will help them for a smooth transition and re-integration, once they are back in Sri Lanka.
The Special Consular Service was held in collaboration with the Department of Rehabilitation of Tamil Nadu. The OfERR, an NGO working for the welfare of Sri Lankan refugees assisted in this endeavour.