President at World Energy Forum : Food security as important as alternative energy
Posted by Editor on October 23, 2012 - 8:19 am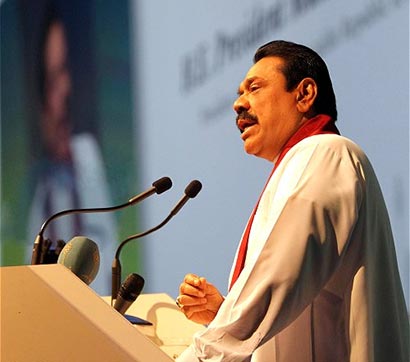 Countries must bear in mind that in the search for alternative energy, sources agricultural land of today and tomorrow must not be used. We must not let the hunger for alternative energy lead to an increase in hunger for food. The use of food crops for fuel production must be avoided to prevent the spread of today's threat to food security, caused by turning food crops into fuel crops. The food energy for peoples' lives should not be made the driving energy for cars, President Mahinda Rajapaksa said.
"In addition to monetary assistance, the transfer of technologies on sustainable energy generation to developing nations is now an imperative because a technology must
move into economic viability for developing countries to embrace sustainable and clean energy," the President said addressing the World Energy Forum in Dubai yesterday.
"Any policy that would not consider the imbalance in the ability of developed and developing nations to absorb new technologies is likely to be rejected by the people. Such measures might be viewed as unjust, unilateral and self-serving of an influential few.
Therefore it is extremely important to balance the right of every nation to development with our shared desire to have a sustainable and Greener planet," he said. A modern economy needs to secure cheap, reliable and efficient energy resources. Today, all nations face the challenge of securing such resources. It is important to strike a balance between the ever-growing demand for energy and the need to harness energy resources in a sustainable and equitable manner. Our challenge is to maintain this balance for the benefit of future generations, President Rajapaksa said.
Latest Headlines in Sri Lanka