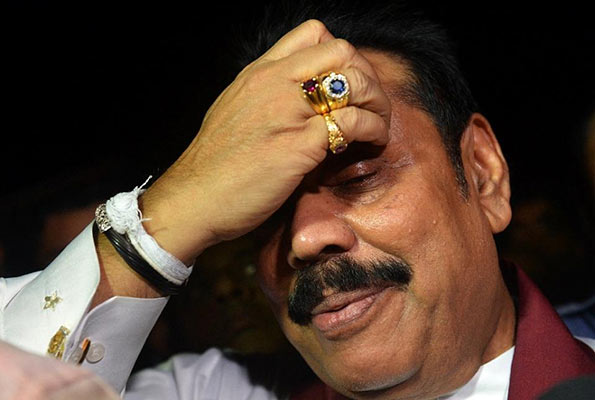 Fifty more police personnel attached to former President Mahinda Rajapaksa's security contingent were withdrawn yesterday. They include three Inspectors, five Sub Inspectors and three Women Police Constables (WPCs).
Sources said that police headquarters had named the personnel recalled from the former President's security contingent.
Yesterday's reduction of police security followed last week's removal of 42 officers and men.Former Minister Johnston Fernando, MP who had been with former President and Kurunegala District MP Mahinda Rajapaksa in Kurunegala told The Island that the government was endangering the war winning President's life. There couldn't be any excuse for pruning the former President's security by 92 officers and men within days under any circumstances, he said.
Fernando asserted that the weakening of the former President's security couldn't be merely due to the successful Joint Opposition May Day rally.
Obviously, yahapalana rulers had planned to drastically trim the former President's security before May Day, MP Fernando alleged.
Responding to a query, the JO member said there was a conspiracy perpetrated by interested parties hell bent on overcoming the Rajapaksas' challenge.
MP Fernando emphasised that the threat faced by the former President Rajapaksa couldn't be compared with that of former Presidents JRJ, CBK and D. B. Wijetunga. The MP was responding to Law and Order Minister Sagala Ratnayake recently justifying removal of 42 personnel on the basis of a fresh security assessment made by police headquarters. Minister Ratnayake explained that gradual withdrawal of army and police units assigned to former Presidents had been based on periodic security assessments and the same policy was applied to former President Rajapaksa.
Fernando pointed out that the yahapalana government had conveniently forgotten that the Rajapaksa gave resolute political leadership to bring the LTTE to its knees in May 2009.
Another JO official told The Island that at the time the government withdrew 42 personnel, the former President had only 199 men and women security contingent. However, Minister Ratnayake placed the number of personnel assigned to the former President at the time of the decision taken at 229.
(Source: The Island – By Shamindra Ferdinando)