Mahinda – Maithri face to face at RAJAGIRIYA today
Posted by Editor on December 8, 2014 - 8:04 am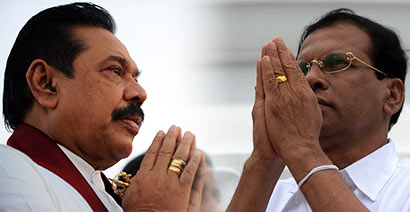 Having parted after a hopper meal at the Temple Trees, President Mahinda Rajapaksa and his former Health Minister SLFP General Secretary, Maithripala Sirisena will meet for the first time face to face today when the duo visit the Elections Secretariat to hand in nominations for the upcoming presidential poll due on January 08.
Today they meet as rivals to contest the upcoming presidential poll having been members of the SLFP for over four decades. Sirisena is backed by several opposition political parties led by the UNP as the common opposition candidate.
This is the first time that two members who had served the same political party contest each other at a presidential election. A special traffic plan will be implemented by the police on roads leading to the Election Secretariat at Rajagiriya till noon today.
(Ceylon Today)
Latest Headlines in Sri Lanka