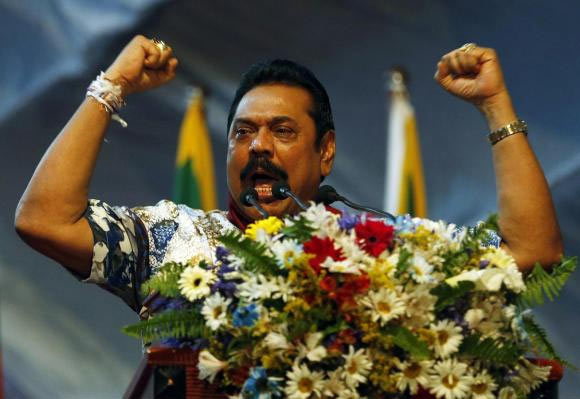 Former President Mahinda Rajapaksa yesterday said that he would accept the people's invitation to contest the next general election as the prime ministerial candidate.
In a message read out at yesterday's mammoth rally held by UPFA rebels at the Sanath Jayasuriya grounds in Matara the former President said that he would surely be on the rebel s' platform a the next rally.
The former President's message was read by former Minister and SLFP Vice President Dullas Alahapperuma.
Rajapaksa said his government had defeated the LTTE in 2009, but the present government was paving the way for its revival.
He alleged that out of 159 army camps in the Jaffna peninsula 59 had been removed. Now, the government was in the process of releasing some LTTE cadres in custody at present.
Rajapaksa said the present government's pro-Ealam foreign policy would have to be defeated or the country would be in danger.
The former President said that all development projects including the Matara-Beliatte stretch of the Southern Expressway, the Matara-Kataragama railway, the Matara new town, the Northern Expressway, the Uma Oya Project, the Colombo Port city project had been stopped.
China and Russia had helped Sri Lanka defeat the LTTE, but the present government had stopped all Chinese-funded projects.
He said that the suspension by the incumbent government of the national development drive was the biggest blunder in the post-Independence Sri Lanka.
"No one can bring me down by levelling false allegations against me," Rajapaksa said, asking the people to be ready to come forward to prevent the LTTE from raising its head again.
(Source: The Island)