Chandrika slams 'concocted' CB reports
Posted by Editor on June 13, 2015 - 9:47 am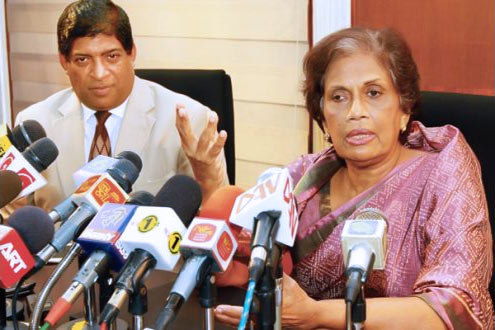 Former President Chandrika Bandaranaike Kumaratunga (CBK) rubbished claims yesterday that the country's economy had grown 8 per cent during the tenure of the previous government.
She instead alleged that the previous government had been riddled with many illegal and corrupt practices.
At a press conference called at the Finance Ministry yesterday, CBK charged that the Central Bank figures were manipulated during the previous regime.
She said experts had estimated the economy had expanded only by 5 per cent during the previous government tenure.
In addition, she noted that the vision to create certain hubs was initiated when she was President and the then UNP Government led by Ranil Wickremesinghe. "The vision to create air, sea and cargo hubs was part of my government's concept, while the tourism vision came from Ranil Wickremesinghe's administration, which was a very good vision that was rejected by the Rajapaksa administration."
She also noted that the projects initiated by the previous regime would be continued but would be renegotiated and brought within due legal processes.
The projects that will be renegotiated are the Port City and the Outer City Highway while the Northern Highway project will be also restarted.
Reiterating that the previous government had engaged in many corrupt practices, the former President alleged that its economic management ignored established legal process.
She noted that tenders were given to any individual and commissions of as high as 50 per cent were charged and agreements were cancelled when the commissions were not paid.
She said that while interest rates were generally at a maximum of two per cent on foreign borrowings, the previous government accepted interest rates at nine per cent, which were mainly from Chinese and European Banks.
Underscoring the corrupt practices under the previous regime she held out the example of how, during her regime, six big projects were entered into only after a thorough legal process filtered the best companies for the project.
One of the projects was the Norochocholai Power project. We paid only US $240 million for the first stage of the project. She said she had insisted the project commences during her administration.
Yet when this administration came in and they insisted on a 50 per cent commission, the companies stopped work on the projects and refused to return when an appeal was made to them later.
The companies that did begin work later on were not as efficient as the previous set and did not have the financial capacities of the previous companies.
When asked why there weren't any prosecutions she said, since the government was democratic a proper investigation, which is not easy to accomplish, had to be first completed. This was now being done, she added.
(Source: Ceylon Today)
Latest Headlines in Sri Lanka